American Idol, Natalie Cole & Jim Carrey
Okay, I'll admit it—I enjoy watching American Idol. I like the try-outs, and like millions of others, I especially wanted to tune in this year to watch Ellen.
While watching an episode in February, something in particular stood out for me: They showed a clip of one of the male contestants saying how nervous he was when he got on to the stage to sing in front of the millions of viewers. I remember thinking that it would be cool to meet him so I could share some anti-stress tips with him that I recently learned and fine tuned.
Not 30 days later, on a business trip to L.A., Randy and I had the priviledge of meeting four of the male constestants from Season 9's American Idol. We were staying in the same hotel as them and it so happened on the same floor (Big Mike was two doors down from us).
I first realized it when I was checking in and Crystal Bowersox was standing right next to me at the front desk. I looked at her and asked her if she was on American Idol and she replied with "I get that a lot." So I figured it wasn't her but as we were waiting in the lobby for the elevator to go up to our room, the door opened and several of the guys came walking out. We acknowledged them—and they were super nice and happy to be recognized.
When we got to our floor, we were wheeling our suitcases into the room when four guys passed by us and stopped to say hello. To our surprise, it was Andrew Garcia, Lee DeWyze, Alex Lambert, and Michael Lynche (a.k.a. Big Mike). We sat in the hallway for a while and chatted. I asked Mike how it felt to be a dad and he told us it was amazing and that his family was moved down to L.A. to be with him. Andrew and Lee told us how much they love music and performing (they are both in bands), and Alex told us how he was the only one without any prior singing experience and he was very nervous because of it.
Then it dawned on me: Alex was the contestant I saw who talked about how nervous he was and I was actually sitting face-to-face with him. So I seized the opportunity and shared some tips on managing stress. I gave Alex a bottle of Bach's Rescue Remedy (I always travel with it) and told him to take two drops under his tongue right before he goes on stage to perform. I also mentioned B vitamins and magnesium and told them they can buy it at Whole Foods Market or any natural products store.
That Wednesday night the boys performed and I was so curious if Alex used the Rescue Remedy. We saw them when they got back to the hotel and asked them how it went. Lee sang Owl City's Fireflies and we asked him to sing it to us acapella, which he did; he really has an amazing voice. We asked Alex if he took the Rescue Remedy and he said only before rehearsal but not for the actual show. (Maybe he should have because he was eliminated the following night. Oh well.) Big Mike was in a great mood—he made Kara Dioguardi cry that night—and very entertaining (he joined us sporting a wig and fake gold teeth). And Andrew, whom I think is terrific, told us how the whole American Idol experience has been fanatastic and how he's made some really great friends in the process.
The next day Randy and I bumped into Natalie Cole at a shoe store on Beverly Drive (I literally backed up right into her). She just smiled. She is very beautiful. Her hair was pulled back and she wasn't wearing a lot of make-up.
That weekend I also met Jim Carrey at Natural Products Expo West. I tapped him on the shoulder and he turned around to face me. I told him I wanted to say hello since I am a fellow Canadian so he shook my hand and congratulated me on the Olympics and I did the same. He was super friendly and very good looking in person. His hair is long and swept to the side and he was wearing shades. One thing that caught my attention about him was someone asked him if he would be open to an interview to talk about healthy living and Jim responded with "I don't talk about it, I live it." As you probably know, Jim is married to Jenny McCarthy and together they have been very vocal about vaccines, autism, and allergy-free living.
All in all it was a really fun trip. Aside from the weather (it was pretty darn cold—and no, I don't get used to it just because I'm Canadian), we had a blast. Until next year...
---
About the Author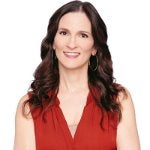 Founder & Chief Passionista at NaturallySavvy.com. See my full bio here.