How to Spot Iron Deficiency
How to recognize the signs of iron deficiency?
Symptoms
• Symptoms of iron deficiency include fatigue and a lack of stamina. This is the result of fewer and paler red blood cells and a reduced ability of these cells to hold and carry oxygen.
• Iron deficiency in children has been reported to produce psychological problems, learning disabilities, hyperactivity, decreased attention span, and a lowered IQ as well as anemia.
• Other common iron deficiency symptoms are headaches, dizziness, decreased appetite, weight loss, constipation, and a weakened immunity.
• Anemia manifests itself as pallor of the skin, cheeks, lips, and tongue.
• Canker sores in the mouth, hair loss, brittle nails, and itching are other common symptoms.
• People who suffer from iron deficiency will sometimes have unusual food cravings, which promptly disappear after iron supplementation is successful.
• In children, iron deficiency may cause a strange symptom called "pica," a term which refers to the eating or chewing of inedible objects such as toys, clay, or ice. Iron treatment stops the behavior.
Iron deficiency can be confirmed by blood tests, the most sensitive of which is the serum ferritin level.
Foods high in iron
It might surprise you to know that the best sources of iron are vegetarian.
Kelp—100 mg of iron per 100 g
Brewer's yeast—17.3 mg of iron per 100 g
Blackstrap molasses—16.1 mg of iron per 100 g
Wheat bran—14.9 mg of iron per 100 g
Pumpkin seeds—11.2 mg of iron per 100 g
Whole sesame seeds—10.5 mg of iron per 100 g
Wheat germ—9.4 mg of iron per 100 g
Beef liver—8.8 mg of iron per 100 g
Sunflower seeds—7.1 mg of iron per 100 g
Millet—6.8 mg of iron per 100 g
Parsley—6.2 mg of iron per 100 g
Cashews—3.8 mg of iron per 100 g
Raisins—3.5 mg of iron per 100 g
Eggs—2.3 mg of iron per 100 g
Tofu—1.9 mg of iron per 100 g
Chicken—1.5 mg of iron per 100 g
Salmon—1.2 mg of iron per 100 g
Dr. Rona
---
About the Author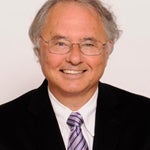 Dr. Zoltan P. Rona is a graduate of McGill University Medical School (1977) and has a Master's Degree in Biochemistry and Clinical Nutrition from the University of Bridgeport in Connecticut (1984). He is past president of The Canadian Holistic Medical Association (1987-88) and is the author of three Canadian bestsellers: The Joy of Health (1991), Return to the Joy of Health (1995) and Childhood Illness and The Allergy Connection (1997). He is co-author with Jeanne Marie Martin of The Complete Candida Yeast Guidebook (1996) and is the medical editor of the Benjamin Franklin Award winning Encyclopedia of Natural Healing (1998). He has had a private medical practice in Toronto for the past 35 years, has appeared on radio and TV as well as lectured extensively in Canada and the U.S. Dr. Rona currently writes regular articles for Reader's Digest, Alive, Vitality magazine and for several web sites. His latest book "Vitamin D, the Sunshine Vitamin" was published in 2010. In 2011, Dr. Rona was named Chief Medical Advisor for NAKA Herbs and Vitamins and has developed a line of nutritional supplements (TriStar Naturals) which are sold in health food stores across Canada. He can be found at www.highlevelwellness.ca