Lessons from a Six-Year-Old
My son started Grade 1 this year, and he had very mixed emotions going into it. He was excited to be a "big boy," but he didn't want to leave behind playing in the pirate nook and dressing up as Spiderman during free play.
For those of you with kids in grade school, you can appreciate what a major jump it is going from Kindergarten to Grade 1. Not only for us parents (you can always tell the Grade 1 parents apart from the older grades parents because of their photography paraphernalia), but especially for our kids. The first week of school was an adjustment for him, but by the second week he seemed to be liking it better.
On the Monday of week two, my son came home and told me he wanted to be the "Star Student" of the day. He explained that kids who listened and behaved throughout the day could have a chance to win a certificate that rewarded their good behavior.
I was very happy to see he was motivated to listen and do well in school in order to win this award. I told him I was sure if he did what he was supposed to do, he would definitely win it in the near future.
On that Tuesday he repeated his desire to be the Star Student. This time instead of just telling him he'd eventually win it, I took it a step further by providing him some tools to make it happen. I told him to say a prayer and ask his Angels to help him win it.
My son is no stranger to Angels since we often ask them to make it stop raining just in time for our trip to the amusement park or to find a parking space right in front of where we need to go. We also often thank them for our blessed lives. So this time I told him to use those same techniques and apply it to the Star Student award.
On our walk to school on Wednesday morning, we repeated the prayer a few times, and I gave him a mantra to repeat to himself while he was in class. It was: "I am the Star Student" and I told him to keep repeating it to himself over and over again and to believe he already was.
That afternoon he came home telling me that his teacher told him he was almost the Star Student. He seemed pretty happy to hear that. That night before bed we said a couple more prayers.
On Thursday afternoon my son came over to me with a huge smirk on his face, holding something behind his back. By the look on his face, I knew he got the Star Student award. When he flashed me that piece of paper that meant the world to him, I jumped for joy and screamed something along the lines of: "You go it, you got it—yay!!! That's amazing! Woo whoo—woo hoo!!" The smile he had on his face at that moment was priceless. He was so proud of himself and I was proud of him.
Later that night when I was talking to my kids before bed, I reinforced the notion that if they put their mind to something and believe it, they can achieve it. Just like my son did. I also mentioned how they can always ask their Angels for help when they need it because our Angels are always around us, waiting for us to engage them.
The amazing thing was the speed in which the prayer came true—just two days! Kids are amazing; their childlike ways make things happen faster for them. Maybe we need to learn a lesson or two from them?!
---
About the Author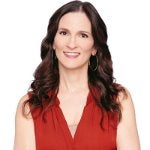 Founder & Chief Passionista at NaturallySavvy.com. See my full bio here.