Pregnant at 40
I have two beautiful, healthy kids. My my son is seven and my daughter is five. I waited a bit to start having kids because I was focused on building my career, which is not so uncommon these days. I also had my kids fairly close together (they are 20 months apart) and was overwhelmed by being a mom, working full time and running a household for at least four years post partum. I was pretty confident I was not going to have another baby and in fact gave away all my baby stuff because I was that sure of it.
Then about six months before I turned 40, I started thinking about having another child. Nobody was more surprised than me. My husband was supportive of whatever I decided to do. I went back and forth with the idea for months before I decided to try. I told myself "If it was meant to be, then I would get pregnant naturally". So we tried. And it worked. Then I miscarried.
That was my first experience with a miscarriage. I had heard how common it was, but I never actually experienced one myself. I was discouraged, but told myself I would give it one more try. So I did. And it worked. And I'm now 40 weeks pregnant with baby #3. I'm happy I gave it another chance. It was meant to be.
There is so much talk about getting pregnant at 40 -- we're too old, we can't do it naturally, our chances for an unhealthy baby are so much higher, etc, etc. I remember one of the blood technician's at my doctor's office told me that 'at my age' we have to keep a close watch on my blood work. I know there are higher risks for women having babies in their 40's, but there are many of us who have healthy, uneventful pregnancies. I can count at least three or four of my friends who are having or have had babies in their 40's. Every one of them had a healthy child. We are/were all blessed.
For me, getting pregnant at 40 has its pros and cons. The way I look at it, if I am able to conceive naturally then it was a blessing. I take good care of my body, eat well (organic as much as possible, no gluten, no dairy and no wheat) and do whatever I can to help my body stay young and strong. And I am proud of that.
However, because of my age, I did have to have an amniocentesis because my score came in at 1 in 130 for a baby with Downs Syndrome. I was told that my age alone works against me with a score of 1 in 75. Thankfully the results came back negative for Downs Syndrome and the other genetic illnesses they tested for.
My biggest issue with getting pregnant at 40 was I thought other people were judging me. At least that's how I felt when I received comments like "You're already out of the baby stage, you're crazy to go back to it" or "I'm happy it's you and not me". However, as my pregnancy progressed, I received more compliments than any of my other pregnancies combined and I have to say it made me happy. I gained less weight this time around (about 20 pounds less); been told numerous times how I look 'healthy' and that I am 'the most beautiful pregnant woman they have ever seen' (thanks to Beth and Allan). At first I had a difficult time accepting the compliments, but with time and good energy work, I changed my thought pattern and accepted the compliments with a smile and a thank you.
So to all of you women out there who are 40 and over who are trying to conceive or who are already pregnant at 40... I say good for you. You deserve it. And I wish you the best of luck.
---
About the Author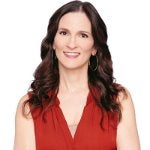 Founder & Chief Passionista at NaturallySavvy.com. See my full bio here.