Teach Kids About Healthy Eating

Last week I was asked to speak to a class of fifth graders. I introduced them to "The Scary Seven" and talked about the importance of avoiding chemical additives. The kids seemed well-informed about diet in terms of how it affects one's weight, and when I asked how many of them chew sugar-free gum, most of the class raised their hands. When I asked if they ever feel any side effects from chewing that gum, more than half raised their hands. The major side effects they complained about were headaches, stomachaches, and nausea.
The kids were most intrigued about artificial sweeteners and colors. They were super-engaged, asking a lot of questions and eager to try the natural/organic alternatives I brought with me.
I gave the class some samples from Nature's Path, Glee Gum, Barbara's Bakery, Country Choice, Late July and Surf Sweets. They loved them! Several kids told me the products I introduced them to tasted BETTER than the ones they normally ate.
After meeting with the kids, I posted about it on my personal Facebook page. It turns out that one of my Facebook friends' son was in that class! He made this comment under my post:
"Hey Andrea, I just found out this morning that it was my son's class you were talking to. He's been going on all morning about what he should be eating now. Thanks for educating!!"
When I asked him for more details, he sent me this message:
"He told me that sugarless gum is bad for you and that when you buy food you shouldn't look a the calories or fat content but at the ingredients. He also told me he tried "great organic jelly beans." I'm sure he'll tell me more later...."
What is amazing to me as a nutritionist, and someone who is passionate about healthy living, is hearing the immediate impact my talk had on this one little boy. I try everyday to lay the foundation for healthy eating for my kids, as they are our future, our next generation of healthy eaters. Knowing that this one 60-minute talk made enough of a difference for this boy to tell his dad what he should be eating now… just made my heart sing. He makes what I do all the more meaningful and worthwhile.
In the words of my best friend who posted this comment on my Facebook page:
"That's my girl - changing the world from the bottom up! One fifth grader at a time!"
Now that's success.
Photo Credit: ....Tim
---
About the Author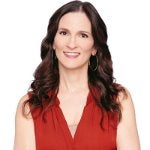 Founder & Chief Passionista at NaturallySavvy.com. See my full bio here.