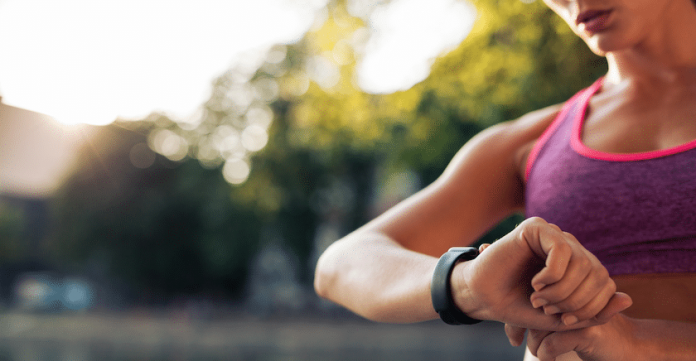 At-home health technology has come a long way since the invention of the digital scale. In addition to fitting nicely into our pocket or purse, our phones have given us the ability to track, measure, and adjust many aspects of our overall well-being. As advancements are made in the wellness sector, the devices that work to make our lives easier have become increasingly more sophisticated.
It's estimated that we spend up to 90 minutes a day on our phones and mobile devices. With technology and mobile app usage habitual, here are seven health-focused programs and tech worth downloading into your routine.
Leaf Touted by tech experts as one of the most innovative pieces of wearable technology for women, the Bellabeat Leaf Fitness Tracker is a stylish accessory that does a lot more than just look pretty. Fashioned as a necklace, bracelet, or pin, Leaf works to monitor every aspect of your health including daily activity, sleep, breathing, stress levels, and menstrual cycle. All data tracked by the device seamlessly synchs to your mobile device, allowing you to view all data in a clear and comprehensive way.
Lose It! The free app is the perfect all-in-one program for anyone looking shed some pounds. Not only does Lose It! give you the ability to count your calories and suggest meals to help you achieve your goals, it also personalizes your plan to your specific needs. Once your goals are set, the app helps you achieve them by tracking your calorie intake and daily exercise. The program also connects users to a personal support network to help with the weight loss journey.
AliveCor Heart Monitor
A tiny device that attaches to your phone or wrist, the AliveCor Heart Monitor is a must for anyone worried about their overall heart health. The physician-tested technology allows you to capture a single-lead EKG in 30 seconds. Data is tracked via your mobile device making it easy to tell whether your heart rhythm is normal. In addition, the device allows users to track palpitations, shortness of breath, sleep habits, and exercise patterns.
True Food
With an estimated 80% of foods, containing ingredients from a genetically engineered crop, it's hard to know what's really in the food you're buying. True Food helps you take the guessing out of grocery shopping by letting you know the latest information on GE crops and foods. Users are able to browse different categories to know which foods to avoid and what brands are 100% safe.
Read about the top ten reasons to avoid GMOs
Pebble While there are plenty of smartwatches that have built in fitness trackers, the Pebble smartwatch tracks many aspects of your overall health. Available in different styles, Pebble sends you summaries of your daily activity and tells you where you may need improvement. Its built in sleep monitoring technology wakes you up based on your sleep cycle to eliminate potential grogginess. Say farewell to the snooze button and wake up feeling more energized.
PIP
We all know the negative effects stress can have on your body: headaches, trouble sleeping, and high blood pressure just to name a few. No matter how stress affects you, PIP helps you manage it. A compact device that synchs to a mobile app, PIP gives you immediate feedback about your current stress levels and gives you effective ways to help reduce your stress. PIP also gives users a way to visually measure stress levels over time and pinpoint stress triggers. Finding ways to reduce your stress will ultimately lead to positive effects for your overall health.
Read more about stress and weight gain
7 Minute Workout
Going to the gym isn't for everyone, and 7 Minute Workout makes working out at home easy and effective. The app gives users quick daily workouts that are proven to help you get into shape and lose weight. Voice prompts also prevent users from having to constantly check the timer. The only equipment necessary? A chair and a wall.
Next time you're looking to lose weight or get a better night's sleep, make things a bit easier by letting technology do the heavy lifting.