A Healthy Skin Diet: How to Harvest Your Best Beauty and Nutrition this Autumn
Autumn is a great time to experiment with the healing power of roots, in aromatherapy and for beauty recipes. The roots are where a plant concentrates its vitality, and because they feed off nutrition from the soil in which they grow, roots contain copious amounts of minerals, beta carotenes, and anti-oxidants.
1. Angelica Root (also known as the Holy Ghost or Holy Spirit Root, Archangel Root and Oil of Angels)
Angelica Root is an essential oil that comes from a large, aromatic plant related to parsley and carrots. It has a rich, peppery-sweet, musk-like aroma, reminiscent of an ancient forest. Angelica's pleasant yet strange aroma enhances introspection. It is very effective for restoring a sense of grounding, centering, and stabilization in times of anxiety, fear, and depression. (Drop onto a tissue and inhale, or use an aromatherapy room diffuser.) A drop or two on the soles of the feet before bedtime can be a wonderful sleep aid and call in beautiful dreams.
2. Carrot Anti-Aging Mask and Blemish Treatment
This treatment delivers massive amounts of beta carotene which is converted to Vitamin A in the body. Vitamin A stimulates the production of collagen, encouraging skin cells to behave more like youthful skin cells, diminishing fine lines and wrinkles. Carrots also tone and clarify the skin, since they are naturally antiseptic, as is coconut oil. This makes both of them a reliable treatment for blemishes and breakouts.
Take four medium-sized carrots which have been peeled.
Steam or boil, mash two of the carrots and mix with 3 to 4 teaspoons of organic, virgin coconut oil to form a paste.
Spread the paste on a clean face and let it set for up to 15 minutes.
Juice the other two carrots and whisk the juice with the coconut oil.
Spot-dab blemishes with a cotton ball dipped in the carrot mixture.
Store mixture in a glass jar in the fridge for up to three days. Use twice a day for best results.
Read about natural remedies for teen acne.
NEXT>> 3. Late For The Bus Smoothie Recipe
Image via: Cathy Russell
---
About the Author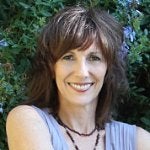 Randi Ragan is the founder and owner of the award-winning GreenBliss EcoSpa, named one of Los Angeles' Top 10 Holistic Spas its very first year in business (2006). Prior to this, Randi was a yoga and meditation instructor for 12 years, during which time she led yoga and spiritual retreats in California, Mexico and Hawaii, and formed The Blessing Works, which specialized in the creation of customized healing ceremonies and rituals for its clients. She has just completed her first book, A Year Of Living Mindfully: Seasonal Practices to Nurture Body, Mind and Spirit. It will be published in 2016 by Quest Books.