Gut Health For Immunity
If you suffer from immune system problems or autoimmune disease, the problem may lie in your gut. Not the midsection that could benefit from a few more sit ups, but the gut you don't see – the gastrointestinal tract.
Sjögren'ssyndrome, an autoimmune disease, is characterized by inflammation in glands of the body that are responsible for producing tears and saliva, resulting in dry eyes, mouth, and lips.
The case of a female patient with Sjögren'ssyndrome featured in the Journal of Alternative and Complementary Medicine highlights the impact gut health can have on inflammation. The patient, who stopped menstruating as a result of treatment, followed an elimination diet protocol, removing gluten, beef, eggs, dairy products, nightshade vegetables, refined sugars, and citrus fruit from her diet for four months. At the four-month mark, her monthly period resumed and there was noticeable improvement in her rheumatological symptoms.
The study's author suggests that the return of normal menses was caused by reduced inflammation in the ovarian tissue.
An autoimmune disease is a misguided attack on your own body. Antibodies in the blood wrongly attack various organs and tissues. The largest part of the immune system in the body is in the mucosal lining in the gut. This study supports the theory that the gastrointestinal tract can have a positive effect on autoimmune disease and inflammation.
Protecting gut health is quickly becoming an important priority among health experts. Intestinal flora can be enhanced and protected with the inclusion of probiotics both in the diet and as part of your supplement program. Promote healthy daily bowel movements by ensuring your diet has thirty grams or more of fiber every day, and consider a colon cleanse once a year.
Feuerstein J. (2010), "Reversal of premature ovarian failure in a patient with Sjögren syndrome using an elimination diet protocol", J Altern Complement med 16(7), 807-9.
---
About the Author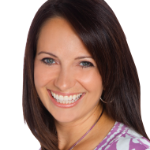 Lisa has been in her own practice for over 15 years and specializes in weight management. She teaches natural nutrition in both corporate and educational environments and is a shining example of someone who practices what she teaches.
Lisa is a nutritionist and educator specializing in weight management. After losing weight several years ago through a more natural diet and by improving her digestion, she committed to sharing her new-found knowledge and returned to school to study nutrition. Over the past decade, her Nu-Vitality Weight Program has helped employees at numerous corporations lose thousands of pounds. In addition, Lisa regularly consults for groups and individuals with unique nutritional needs such as police officers and athletes. Lisa has been featured on the Discovery Channel, numerous radio programs and is a contributor to various publications. Additionally, she teaches nutrition at multiple post-secondary schools, has taught natural food cooking workshops, and authored two books.