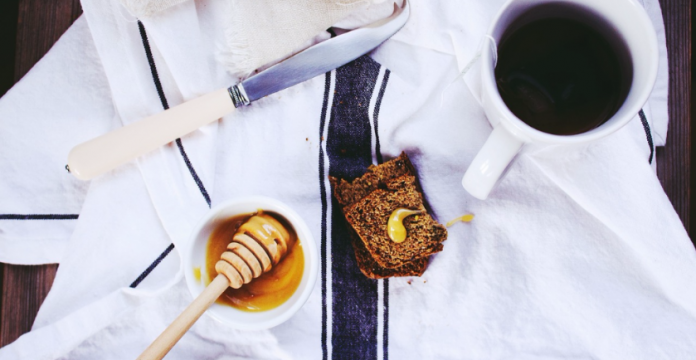 It's National Honey Month, and we want to celebrate by incorporating this liquid gold into our routine from the moment we wake up in the morning until we go to sleep at night. Try one (or all) of these throughout the day to take advantage of all that honey has to offer.
The U.S. is home to more than 300 types of honey-and that doesn't even come close to all the honey varieties throughout the world. Different honey comes from different bees as well as beekeepers ensuring their bees only visit specific flowers. In addition to origin, honey is also separated into categories such as pure, raw, filtered, Manuka, wild, and certified organic. To avoid the scary seven additives, look for local raw or organic honey.
Read about the buzz on types of honey here
Rise and Shine
Add a little extra buzz to your morning caffeine routine. If you sweeten your tea, try a touch of honey instead. Coffee drinker? Try honey in a cold brew or latte:
Honey Nut Cold Brew
Ingredients
1/2 cup coarsely ground coffee
2 cups water
1/4 cup almond milk (or non-dairy milk of your choice)
1-2 Tbsp honey
Directions
Add the coffee and water to a mason jar and let sit overnight. In the morning, strain using a cheesecloth and fine mesh strainer. Combine coffee with coconut water and coconut milk, adjusting for taste. Note: You can make the cold brew stronger or weaker by adjusting the coffee to water ratio.
Honey Cinnamon Latte
Ingredients
1 shot of espresso or 1/3 cup coffee
1 cup non-dairy milk
1 Tbsp honey
1/2 tsp cinnamon
Directions
Heat the milk in a pot or a steamer. Combine honey and cinnamon, reserving some cinnamon to dust. Add milk to cup with coffee, top with cinnamon, and enjoy.
Once you've got your caffeine, it's time for some self care. Wash your face as you normally would, and then prepare a honey mask by mixing two tablespoons of honey with one tablespoon of baking soda. This mask will exfoliate, hydrate, and nourish your skin. Apply and let sit on your face for 5-10 minutes before gently rubbing in a circular motion. Rinse off with warm water. (Note: This can be a bit messy so it's best to apply in the shower).
While honey pampers your skin, don't forget your hair! Combine one tablespoon of honey with two tablespoons of coconut oil and apply to the ends of your hair for shiny locks.
Read about 9 ways honey benefits your skin, hair, and nails
Sweet Eats
Honey is a great addition to almost any meal. Try one of the following recipes for lunch or dinner this week:
Honey Glazed Chicken Quinoa Bowl
Baby Bok Choy with Hoisin Honey Glaze
Andrea's Crowd-Pleasing Gluten Free Upside Down Honey Apple Cake
Looking for an afternoon pick me up? Honey, fruit, and nuts over greek yogurt will keep you going until dinner. Or make your own honey-glazed nuts. Toss 4 cups of raw nuts with 1/4 cup of honey, 2 tsp cinnamon, and a pinch of sea salt. Bake at 350 F for 20 minutes, stirring occasionally. For an especially sweet treat, look for raw honeycomb in your local health food store or wherever you buy locally-made honey.
Rest and Restore
Honey can be used in the evening for a number of purposes. A tablespoon of honey can provide relief from seasonal allergies, coughs, and sore throats (Manuka honey is especially effective). Honey can also promote sleep as it assists in the release of melatonin, add a tablespoon to a cup of organic camomile tea about an hour before bed. [Editor's note: We recommend high quality teas like those from our partner Bigelow.]
Finally, soothe your tired feet with a milk and honey foot bath at the end of a long day. Simply combine equal parts milk (try canned coconut milk), hot water, 3 tablespoons honey, and a handful of epsom salts and soak feet for 15-20 minutes.