Is Your Makeup Safe?
What do diazolidinyl urea, formaldehyde, acetate stearic acid, methylparaben, lead, mercury, and micronized titanium dioxide all have in common? Give up? Ok I will tell you, but you are not going to like it: They are ingredients found in many cosmetics, facial creams, and shampoos.
Most of us rarely think about what we are putting on our faces. After all, it must be safe; the government monitors the processing of these products. The sad truth is the Food and Drug Administration (FDA) does not require companies to test their products prior to placing them on the market. And although many studies have found that these chemicals and many others found in personal care products are hazardous to health, nothing has been done to change it.
As consumers, it really is our responsibility to advocate for our families and ourselves. We live in a country that gives us choices, freedom to choose, even if those choices are harmful such as alcohol and cigarette smoking.
The best thing you can do is to arm yourself with knowledge, such as these helpful tips:
1. Check the labels of all products you buy, not just makeup. There are hidden dangers in foods, too.
2. Go fragrance-free as many chemicals are used to give a product its distinctive odor.
Read more about reasons synthetic fragrance stinks
3. If you have an eye infection, irritation, or cut then don't use any makeup until it clears up. Many of these chemicals can't harm you unless they can enter the body.
4. Replace your makeup every three to six months. Many of us will keep our makeup for years, thinking it can never go bad. But makeup does go bad; it harbors all kinds of germs. I used to get a lot of styes and couldn't figure out why. It wasn't until I started to replace my mascara more frequently that the stye went away. So now I replace my mascara and lipstick every two months.
Read more about permanent makeup
[Editor's Note: If you want to learn more about dangerous chemicals in women's health products and how to avoid them, click here to sign up for Naturally Savvy's Women's Health Challenge.]
Image via Emily Cox
---
About the Author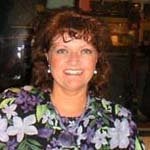 Linda Mundorff, MPH, MSN, ND, RN, CNC, CTN has worked in health care for over 25 years as a registered nurse, health educator, associate professor, and a naturopathic doctor. She holds several degrees in health education, public health, nursing, and naturopathy. She is a certified nutritional consultant and a board certified traditional naturopath. Dr. Mundorff is the author of several books, including
Memories Of My Sister: Dealing with Sudden Death
,
Medical Terminology: A Student Workbook
. Her latest,
Take Control: A Guide to Holistic Living
, is an innovative health guide, which helps the reader learn how to regain control of their health by discovering the practical effectiveness of combining alternative and modern medicine.