4 Gluten-Free Restaurant Dining Tips
I have a lot of experience with gluten-free dining because my best friend has Celiac disease and if she accidentally eats something that contains gluten, it puts a damper on her day, making her very sick. She's very used to the ins and outs of gluten-free dining because she's been doing it for a really long time. Over the years, as gluten-free dining has caught on, I've learned what works and what doesn't work in gluten-free dining.
1. Make your offerings known.
It's important for the restaurant to publicize their
gluten-free offerings
. Restaurants should be educated well about what menu items contain gluten and why. Additionally, the menu should make known which items are gluten-free. And for diners looking into whether a restaurant has gluten-free foods before they get there, it's important that menu items are also listed online. If your offerings aren't online, be prepared to answer questions for call ahead customers.
2. Understand cross contamination.
For diners that have Celiac disease, cross contamination can be a problem. For example, using the same cutting boards and grill tops to cook foods with and without
gluten
. Some customers are sensitive to it and others are not but it's important for cooks to understand that gluten-free foods should not be cooked on the same surfaces as gluten containing foods.
Read more about how to save money on gluten-free foods
3. Tasty foods don't have to contain gluten.
It's likely the most easily substituted ingredient. With so many naturally
gluten-free grains
, cooking without gluten isn't so difficult once you get the hang of it. With a little creativity, a restaurant's offerings can be downright impressive.
4. Don't forget dessert.
By creating thoughtful gluten-free desserts, you're likely to enjoy a lot of orders. Gluten-free diners don't often get to enjoy desserts and when a restaurant has interesting gluten-free dining options, it's sure to please.
Read more about the daily challenges of living with Celiac disease

Gluten-free dining has become very common, whether for customers with Celiac disease or a gluten allergy. And the easier restaurants make it for customers, the more business they will enjoy from this growing group of diners.
Image via star5112
---
About the Author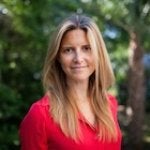 Sara Novak specializes in health and food policy writing for Discovery Health. Her work has also been featured on TreeHugger, HowStuffWorks.com, TLC Cooking, and Animal Planet. After graduating from the Grady School of Journalism at the University of Georgia, Sara headed up the communication efforts for a national scholarship program in Washington, D.C. Sara has also handled copy writing and public relations for a global environmental consulting firm. She loves fiddling with healthful recipes, traveling, and exploring life atop her yoga mat. Today, Sara lives in Charleston with her husband and two lovable cocker spaniels, Madison and Bella.