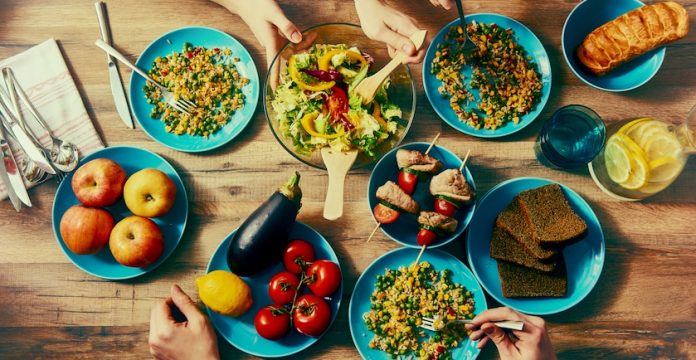 There is nothing better than a great barbecue in the summer time, but it's easy to succumb to indulging in classic barbecue dishes like fatty cheeseburgers, creamy salads, and greasy chips. However, making your barbecue healthy isn't hard and it can be equally, if not more, delicious. Follow these three tips to make your next barbecue healthier for your friends and family.
1. Grill Lean Meats and More Vegetables
Leaner meats are not only better for you because they have a lower fat content, but in our healthy grilling tips we found that they also lead to the development of fewer cancer causing heterocyclic amines and polycyclic aromatic hydrocarbons during the cooking process. In addition to choosing leaner cuts of meat such as free range chicken, pasture raised pork, and grass fed beef. Fish is another great option, but just be sure to opt for one that is low in mercury such as flounder, haddock, or salmon. Vegetables are another excellent option to toss onto the grill, and can be really filling when marinated and cooked kebob style. Portobello mushrooms, peppers, onions, and tomatoes are all great choices.
2. Skip the Mayo
Potato, macaroni, and coleslaw salads are all popular barbecue dishes, but they're often full of calories and fat thanks to one common ingredient: mayonnaise. Better options that are still delicious include this Mexican Bean and Avocado Salad, Summer Cucumber Salad, or a fruit salad. If you really want the classic side salads that you associate with a barbecue consider swapping out the mayonnaise for greek yogurt. Using whole grain pasta or quinoa are other ways to make many classic barbecue dishes healthier.
3. No More Chips and Dip
How often have you been to a barbecue and there is table lined with bowls of potato chips, pretzels, tortilla chips, and more? That's a whole lot of empty calories that are also tough to avoid because you can't have just one, right? Instead of various forms of chips, opt for popcorn (made in an air popper or with olive or coconut oil on the stove) that you can add savory flavors to likegarlic and cayenne. Healthy nuts are also a great barbecue snack option. And putting out a crudité (veggie tray) with hummus instead of a creamy dip will save a lot of calories and fat.