6 Creative Pumpkin Recipes
Image via Ginny
Popularized by the Irish legend, the Jack o' lantern reminds us each fall that the pumpkin is indeed more than a symbol of Halloween. A member of the Cucurbita family which also includes squash and cucumbers, the pumpkin got its name from the Greek word "pepon" which means "large melon."
Like most orange colored vegetables and fruit, the pumpkin is rich in carotenoids, potent antioxidants that have been shown to protect against cancer, macular degeneration, and heart disease. One of the carotenes, beta carotene, converts to vitamin A in the liver, contributing to eye health, immunity, and fights the signs of aging. Pumpkin meat also contains fiber and the minerals potassium, iron and zinc. That's a lot of nutritional value for only 49 calories per cup (cooked).
The pumpkin seed has its own set of nutrients. Also a good source of minerals, including zinc, iron, magnesium, phosphorus, and potassium, only one ounce of 'pepitas' supplies about seven grams of protein. Pumpkin seed oil is rich in essential fatty acids (EFAs). Among their many benefits, EFAs help reduce inflammation, protect the brain, and protect cell membranes. The oil is also rich in phytosterols, plant-based fatty acids that contribute to the reduction of blood cholesterol levels. Pumpkin seeds have long been associated with a healthy prostate. The seeds' zinc and phytosterols may help to shrink an enlarged prostate. For prevention, eat a handful (about 1 ounce) of raw pumpkin seeds three times a week.
A whole pumpkin may be stored at room temperature for up to one month, but once the Halloween festivities have ended, the 'meat' of the pumpkin can be the inspiration for countless recipes.
---
About the Author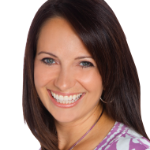 Lisa has been in her own practice for over 15 years and specializes in weight management. She teaches natural nutrition in both corporate and educational environments and is a shining example of someone who practices what she teaches.
Lisa is a nutritionist and educator specializing in weight management. After losing weight several years ago through a more natural diet and by improving her digestion, she committed to sharing her new-found knowledge and returned to school to study nutrition. Over the past decade, her Nu-Vitality Weight Program has helped employees at numerous corporations lose thousands of pounds. In addition, Lisa regularly consults for groups and individuals with unique nutritional needs such as police officers and athletes. Lisa has been featured on the Discovery Channel, numerous radio programs and is a contributor to various publications. Additionally, she teaches nutrition at multiple post-secondary schools, has taught natural food cooking workshops, and authored two books.