6 Ways You Can Impact the GMO Movement Everyday
The GMO movement has come a long way in the past couple of years. Connecticut was the first state to pass GMO labeling and then came Maine and Vermont. Chipotle was the first fast food restaurant to label GMOs on its menu. The rising tide against GMOs is real, and growing protests against Monsanto illustrate this sentiment. Even still, sometimes the problem can feel so huge that it's out of your control. But in fact, you can impact the GMO movement each and everyday. Here's how.
1. Choose unprocessed, whole foods.
In all, 70 percent of processed foods are GMO so you can be sure that if the label doesn't read NON GMO, then it has GMOs. While some whole foods definitely have GMOs, buying organic fruits, vegetables, nuts, seeds, whole grains, meat, and eggs is the best way to cut GMOs from your diet.
Read more about how processed foods are killing you
2. Look for NON GMO Project verification.
More and more foods are labeled by the Non-GMO Project, the main third party verification system in North America. Any product containing more than 0.9 percent GMO must be labeled as such. Absence of all GMOs is the target for all Non-GMO Project Standard compliant products. Support the efforts of producers working to produce non-GMO foods.
3. Be aware of pending GMO legislation.
It's impossible to fight for what you believe if you don't know what's going on nationally. These David and Goliath battles need your support.
4. Follow Right to Know campaigns in your state.
The Right to Know GMO is a coalition of 37 states that have come together with the common goal of winning mandatory labeling of genetically engineered foods in the U.S. It's a grassroots movement that's gaining ground each and every day, and you should be a part of it.
5. Tell your favorite grocery stores to go GMO-free.
By 2018 Whole Foods will become the first manufacturer to require labeling of GMO foods and there's no doubt that this is largely a result of pressure from their customers to step up to the plate. Pressure your favorite grocers, large and small, to take steps to label GMOs or go GMO-free. Your voice matters.
Read more about GMO labeling and food prices

6. Know where GMOs hide.
The majority of corn, soy, canola, sugar, and cotton are GMO. When you see these ingredients on the labels of the foods that you buy, be well aware that these foods are likely GMO unless the label reads otherwise. Become well versed in how to avoid GMOs in your daily diet.
[Editor's Note: If you want to learn more about GMOs and how to avoid them, click here to sign up for Naturally Savvy's Non-GMO Get Healthy Challenge.]
Image: John Serrao
---
About the Author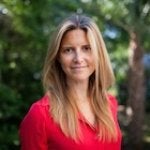 Sara Novak specializes in health and food policy writing for Discovery Health. Her work has also been featured on TreeHugger, HowStuffWorks.com, TLC Cooking, and Animal Planet. After graduating from the Grady School of Journalism at the University of Georgia, Sara headed up the communication efforts for a national scholarship program in Washington, D.C. Sara has also handled copy writing and public relations for a global environmental consulting firm. She loves fiddling with healthful recipes, traveling, and exploring life atop her yoga mat. Today, Sara lives in Charleston with her husband and two lovable cocker spaniels, Madison and Bella.