Artificial Color Surprise
On road trips to visit family, rather than stopping for a leisurely lunch, we pack food and limit the need for many stops. On two trips home we had two separate road-trip-food surprises.
First incident: My husband purchased a bag of dried mangoes at a small indoor market that carried mostly natural foods (fruits, vegetables, and bulk items). We were both pleased with his choice and ate several slices before I glanced at the label:
Ingredients: Mango, sugar, citric acid, calcium chloride, sulfites, color (contains tartrazine).
Sulfites I wasn't surprised to see. They're found in most dried fruit products. Tartrazine, however, or Yellow Dye No. 5, is one of the scariest artificial colors used in food. It can cause severe reactions in some people, and animal studies show that it can damage DNA – a good indicator that it's a carcinogen. What on earth was it doing in my mangoes?
Second incident: My mother-in-law is always sure to have healthy snacks for our visits, most often delicious hummus served with crackers that she buys at her local grocery store. At our last visit, she packed up the leftovers for us to munch on during the ride home. We were about halfway through a package of pita chips lightly seasoned with what looked and tasted like paprika when I read the ingredients label. I almost dropped the package when I saw the term "monosodium glutamate". Artificial colors were also on the label, and both horrified me. They were the last ingredients I expected to find on the label.
Read more about the worst ingredients in food
In both circumstances, we were fooled by the innocuous appearance of the foods and their packaging. Both gave the impression of natural, healthy, and safe foods, so no one bothered to read the labels! We aren't talking about Doritos now, with fancy wrapping and marketing gimmicks. Both food items were in clear plastic packages - the mangoes in a clear plastic bag; the crackers in a resealable hinged container. The labels, too, were so simple. I imagined the grocery store manager baking the pita chips at home on a Wednesday night while watching American Idol.
Both experiences served as excellent reminders to us to read ALL labels – especially on foods that give the impression that they're healthy and homemade.
Image: Andrzej Szymański
Reference
"Color us worried: why synthetic food dyes should be banned". CSPI Nutrition Action Newsletter, Sept. 2010, pg. 10
---
About the Author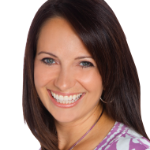 Lisa has been in her own practice for over 15 years and specializes in weight management. She teaches natural nutrition in both corporate and educational environments and is a shining example of someone who practices what she teaches.
Lisa is a nutritionist and educator specializing in weight management. After losing weight several years ago through a more natural diet and by improving her digestion, she committed to sharing her new-found knowledge and returned to school to study nutrition. Over the past decade, her Nu-Vitality Weight Program has helped employees at numerous corporations lose thousands of pounds. In addition, Lisa regularly consults for groups and individuals with unique nutritional needs such as police officers and athletes. Lisa has been featured on the Discovery Channel, numerous radio programs and is a contributor to various publications. Additionally, she teaches nutrition at multiple post-secondary schools, has taught natural food cooking workshops, and authored two books.