Does Aging Affect Your Digestive Health?
As we age, our systems slow down. We are less active, and on top of that we tend to take various medications. One of the main concerns for the elderly is digestive health and having regular bowel movements, and many are on laxatives as a result. Not being able to flush toxins out of the body via the bowels in a regular manner is a huge problem. With fewer bowel movements, there are less healthy intestinal bacteria as well.
Read more about irritable bowel syndrome
For the elderly especially, it is important to ingest a diet consisting of 'softer' foods, and more vegetarian food to improve digestive health. Soup is a good option. Less meat protein should be ingested too. In fact, it is preferable to eat less protein overall as it becomes harder to break down as we get older. To top it off, the kidneys don't function as well anymore, either.
Thus, probiotics (good bacteria) are particularly important for the elderly. Unfortunately, healthy food and healthy bacteria are sometimes an affordability issue.
When my mom was in a senior's home, she was the only one not on laxatives. The only one in the entire home! What did she do? Every morning and evening she drank cranberry juice with a tab of olive oil. It was the best bowel softener. She also took magnesium calcium in the evening, a teaspoon along with hot tea.
Simple and effective.
Read more about the benefits of using olive oil
By taking care to make digestion as stress free as possible with soft foods, adding high quality oils and some magnesium and calcium to the mix, it is much easier to ensure regular bowel movements which are stress and strain-free.
Carla Roter is Naturally Savvy's Colon Hydrotherapy expert. She is a Nurse and Director of The Colon Therapy Health & Education Centre in Toronto.
Image: KJM-427
---
About the Author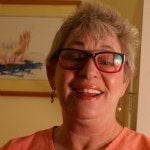 Carla Roter is Naturally Savvy's Colon Hydrotherapy expert. Carla is a Nurse and Director of The Colon Therapy Health & Education Centre. Carla dreamed of 'healing the world' ever since she was a child and followed that path to become a nurse in her native Montreal. She worked in hospital settings – often in quite intense circumstances - for 10 years before being lead to complimentary medicine and specifically colon hydrotherapy by Homeopath/Naturopath Dr. André Saineand MD Dr. Carolyn Dean.

Since then Carla has worked tirelessly at delivering, teaching and advocating for Colon Hydrotherapy. She has delivered in excess of 10,000 treatments over 30 years and has operated her own clinic for much of that time (the Colon Therapy Health and Education Centre). She has trained over 30 nurses at her own Colon Hydrotherapy School of Canada and tried numerous times to create consensus and standards in her field.

Over the course of her career, Carla has also committed to innovating her practice. She has developed an effective alternative approach for preparation of colonoscopy, has improved on the effectiveness and safety of Colonic treatments and has increased her emphasis of nutritional support. She continues to improve the lives of her clients, disseminate information about Colon Health and Colon Hydrotherapy and practice her simple philosophy of 'Live, Love and Laugh'.