Factory Farming Pollution is in Your Drinking Water
Water is the stuff of life. It's something we all need to live. But in the wealthiest country on the planet drinking water is contaminated, and factory farming is one of the main sources of pollution.
The U.S. Environmental Protection Agency (EPA) defines CAFOs as animal feeding operations that confine animals for 45 days in a 12 month period. Improper management of manure and wastewater at CAFOs can impact groundwater. Contaminants such as nitrates and ammonia can seep into groundwater. As a report by the National Association of Local Boards of Health states, "Groundwater can be contaminated by CAFOs through runoff from land application of manure, leaching from manure that has been improperly spread on land, or through leaks or breaks in storage or containment units."
Two lawsuits in different parts of the country highlight the problem of drinking water pollution by CAFOs. The water utility in Des Moines, Iowa is suing three northwest Iowa counties over contaminated drinking water. The lawsuit claims that drainage districts in the three counties are carrying nitrates into the Raccoon River, a major drinking water source for Des Moines.
Environmental groups won summary judgement against four industrial dairies in the state of Washington for violating environmental protection laws. The four dairies poor manure management practices contributes to contamination of the drinking water of thousands of Lower Yakima Valley residents.
I hail from the San Joaquin Valley which some consider to be the agriculture center of the world. The eight counties that comprise the Valley contain "some of the most contaminated aquifers in the nation," according to the Pacific Institute. A total of 92 drinking water systems in the Valley had a well with nitrate levels exceeding the legal limit from 2005 to 2008. In 2007, 75 percent of the nitrate exceedances occurred in the Valley.
Nitrate contamination is a very real health threat. Unborn children are particularly vulnerable. A 2013 study found a link between nitrate exposure and birth defects. In the San Joaquin Valley the communities most affected by nitrate contamination are low income. Some communities are waiting for something to be done to clean up their water. Meanwhile, there only solution is to buy water or install point-of-use filters. That's an added expense many just can't afford. A survey of affected residents in the Valley found that one third used contaminated tap water for drinking or cooking. Over half didn't even know their water was contaminated with nitrate.
The problem of drinking water contamination caused by CAFOs highlights that we need to change farming practices. Preventing any more contamination is a good place to start. It's clear the way we farm in the U.S. is just not sustainable.
Read about farms and food safety
Image: Pretty Much Smiles
---
About the Author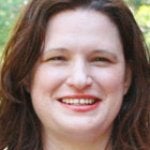 Gina-Marie is a freelance writer armed with a passion for healthy living and a degree in journalism. Hailing from the dry, sunny Central San Joaquin Valley, she hasn't let the heat fry her brain!