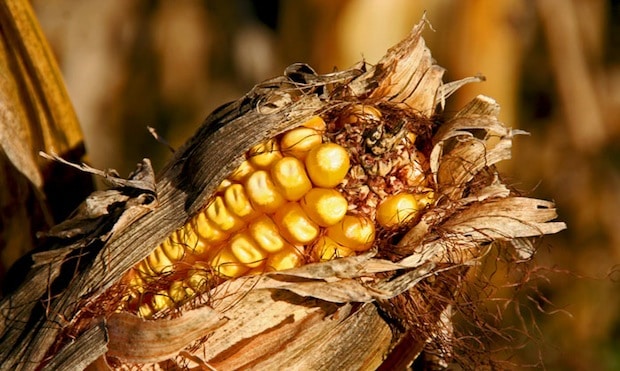 After the highest court in France struck down two previous measures that would have banned Monsanto's GMO corn in 2008 and 2012, the country's agricultural minister banned the sale, use and cultivation of the MON 810 strain of GMO corn last Saturday. It's currently the only approved GMO corn variety allowed in the EU.
According to Reuters, French government officials maintain a position that GMO crops present serious environmental risks, including the deaths of bees as a result of pesticide use. (The EU has banned several pesticides believed to be connected with the colony collapse disorder killing millions of honeybees.)
France's decision comes just prior to a debate scheduled for April 10th that will discuss a draft law that could ban GMOs. The official sowing season for corn begins mid-March. The ban hopes to prevent farmers from planting the GMO corn variety.
"The sale, use and cultivation of varieties of maize seed from the line of genetically modified maize MON 810 (…) is banned in the country until the adoption, on the one hand, of a final decision, and secondly, of (EU) community action, " a decree published on Saturday noted.
"The current Socialist government, like its conservative predecessor, has opposed the growing of GMO crops in light of public suspicion and widespread protests from environmentalists," reports Reuters. "Longstanding differences between EU countries resurfaced in February when they failed to agree on whether or not to approve another GM maize variety, Pioneer 1507, developed by DuPont and Dow Chemical, leaving the way open to the EU Commission to clear it for cultivation."
After French officials made the announcement, farmer and seed firms reportedly set about to challenge the ban, calling it unjustified. "These legal battles are sterile and expensive," UFS, which represents 130 seedmakers with activities in France, said in a statement. "Meanwhile, French and European seedmakers continue to lag behind."
But French officials maintain their positions that genetically modified maize and other GMO crops pose significant human health and environmental risks and warrant heavy restriction.
Image: ohad