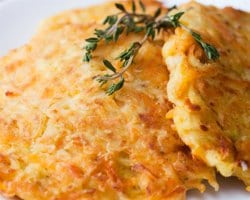 You hear so much about the health benefits of carrots so I thought I would give you some in depth information on their nutrition. Carrots are very low in calories, very high in vitamin A, and have a high water content.
Carrots contain many phytochemicals: carotenoids, flavonoids, coumarins, sulforaphane, and phenolic acids.
Carotenoids and flavonoids are anti-oxidants. They protect vision, prevent degenerative disease (eg. arthritis, heart disease, diabetes), reduce accumulation of plaque in arteries, block carcinogens, suppress malignant changes, keep collagens healthy, and improve symptoms of allergy and asthma.
Sulforaphane protects against cancer by production of good enzymes, thus helping the body to ward off potential carcinogens.
Phenolic acids resist cancer by prohibiting cell proliferation, inhibit platelet activity, and decrease inflammation.
We hear a lot about the benefit of raw carrots, but did you know cooking almost doubles the availability of carotenoids and other phytochemicals? Overcooking, on the other hand, reduces all available nutrients.
Many studies link low beta-carotene (abundant in carrots, apricots, mangoes, peaches, broccoli and others) to increased risk of many forms of cancer. Beta-carotene can significantly block the oxidation of LDL (bad) cholesterol, say studies regarding atherosclerosis and heart disease. The carrot appears to be a cholesterol buster!
Carrots can prevent the formation of troublesome nitrosamines, cancer-causing compounds that are formed during normal digestion after ingesting, for example, common nitrates, a commonly used food preservative. Nitrosamines can destroy DNA which leads to cancerous changes in cells.
Carrots contain much roughage and are therefore good in all cases of constipation (Bernard Jensen, Foods That Heal). Doctor Jensen also contends that it is good for young children to chew a raw carrot before each meal to help straighten teeth, develop the lower jaw and promote normal growth of bones and teeth.
Carrot juice is an excellent body builder and is used in treatment of many illnesses. It is most delicious and nutritious when combined with other veggies.
The joy of the carrot is its versatility. Raw, it is used as a garnish, carrot sticks, salad, added to salads, shredded and added to sandwich fillings, and as juice. Cooked carrots are used plain as a vegetable, stir fried, in casseroles, soups, stews, muffins, cakes, cookies, bars, pancakes, breads, pastas, etcetera.
The following recipe from my book Eat Away Illness is very popular and very easy to make. I like to serve them for breakfast. Of course they are a great addition to any meal. Enjoy!
Carrot and Zucchini Pancakes
Serve these with eggs for a great breakfast!
¾ cup shredded carrots
¾ cup shredded zucchini
2 eggs
¼ cup chopped onion
¼ cup whole grain spelt flour or brown rice flour for gluten-free
2 tbsp. parmesan cheese (use soy parmesan for dairy-free)
Dash oregano
Dash garlic powder
1. Place carrots and zucchini in a blender.
2. Add remaining ingredients and blend briefly.
3. Pour very small amounts onto a greased skillet set on medium heat and cook like pancakes until brown on both sides.
Serve with butter or ghee for dairy-free and unrefined sea salt.
Variation: you may make these pancakes by combining the ingredients without blending them if you prefer more texture.
###
References:Foods That Heal, Bernard Jensen; MD, Earl Mindell's Vitamin Bible, Earl Mindell; The Whole Foods Encyclopedia, Rebecca Wood; PowerFoods, Stephanie Beling, MD; Food and Nutrition Encyclopedia Second Edition.
The above is information regarding nutritious foods and is not intended to replace any instruction from medical or health professionals.