Gingerbread Pancakes with Melted Chocolate Recipe
We had some fun this morning.
I don't have much time to get creative during the week when it comes to breakfast so I try to make something a little bit more elaborate at least one morning of the weekend.
This morning, my eight-year old daughter wanted pancakes shaped like gingerbread people, so I obliged and added my own twist.
I used Pamela's Products gluten-free pancake mix and followed the directions on the package. I made them a little bit larger than normal to ensure I had enough surface space for the die-cut.
For the liquid, I used Almond Breeze almond milk instead of regular milk, but you can add whatever milk beverage you'd like.
I then used a gingerbread shaped cookie cutter that I picked up at Michael's to cut out the shapes.
Once the shapes were done, I placed a few side-by-side so I could decorate them.
I added a few drops of Nature's Flavours red natural food coloring (it's made from black currants) to draw the faces. I used a dropper from another bottle I had in the cupboard.
I then melted organic dark chocolate chips (make sure to use the lowest heat and watch it carefully as it can burn if you leave it there too long or turn the heat up too high). It should only take a few minutes for the chocolate chips to melt.
Now for the fun part. Once the chocolate chips were melted, I asked my daughter to decorate the plate. Of course she loved this part!
Here was her masterpiece. She called it "Chocolate World." In case you're wondering, the design on the left is a house with a roof (she used chocolate chips for the shingles), and the design on the right is a tree with chocolate chip leaves.
It's fair to say, as seen by the evidence below, that brunch was a huge hit!
This is a special treat, but you can easily make fun shaped pancakes without the melted chocolate if you're looking for a less decadent option.
Good appetite.
---
About the Author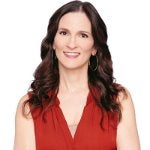 Founder & Chief Passionista at NaturallySavvy.com. See my full bio here.