Green Goodness: Spinach Smoothie Recipe For Energy
I used to be the girl who started out each week with a fair amount of energy but slowly sagged as the days ticked by. By mid-week I was counting down the hours to the official start of the weekend. But that has all changed. I now sleep like a baby, wake up feeling totally refreshed and I'm recovering uncharacteristically quickly from my hard workouts. What's changed? I introduced raw green energy into my life in the form of green smoothies. That's right, a bright green spinach smoothie.
Last year I started drinking spinach smoothies. Yup, spinach. For breakfast. And not just a little bit. For a few years I'd been throwing a small handful into my protein shakes but I decided it was time to go really green. My current favorite green smoothie recipe: 1 cup almond milk, 1/2 frozen banana, 1 tbsp coconut oil, 1 tbsp chia seeds, 1 tbsp raw cacao, 1 scoop of protein powder and 2 cups of organic baby spinach. Blend at high speed for about 45 seconds. This smoothie is GREEN, bright green. And it's yummy. Trust me, I love my food and I definitely would not waste one of my 5 daily eating opportunities on something I didn't enjoy. But this green smoothie is deeeelish! Sometimes I add a tablespoon of almond butter for a different flavor. The kids love this one! My family used to think I was nuts but now they're hooked too.
Read more about juicing versus blending
As a nutritionist, my diet is pretty good, but, I have to admit, sometimes I do crave something sweet in the afternoon. I know that when that happens my body is trying to tell me something. We need a certain amount of nutrients to function not just adequately but for vibrant health and peak performance. Cravings are a signal that something is out of whack. Guess what I don't experience when I'm drinking my green smoothie?
These smoothies are incredibly nutrient dense. Providing a healthy dose of omega-3 fatty acids, protein and low glycemic carbs, it is no wonder my energy lasts for hours. On top of that, I'm also getting a big dose of fiber and phytonutrients from the spinach, banana, chia and cacao. End result: balanced blood sugar, sustained energy and no cravings.
What else happens when you get all that added fiber and raw goodness? No one wants to talk about this but yes, healthy digestion means regular bowel movements. And regular bowel movements (which we should all be having 2-3 times per day, not per week) result in the proper elimination of toxins and excess estrogen. That means better sleep, more energy, shiny hair and glowing skin. No doubt, your mood will also be enhanced.
More benefits of my green smoothie: anti-inflammatory effects. Between the foods we shouldn't be eating, all the hours we push ourselves in the gym and the normal stresses of daily living, many of us have way too much inflammation in the body. Do you wake up feeling creaky, congested or just plain not rested? Dark circles or puffiness around your eyes? Acne, nagging muscle or joint pain, heavy legs? Interrupted sleep, afternoon headaches? These are all signs of inflammation. Solution? Alkalinize and oxygenate your body with more greens.
Read more about inflammation fighting foods
I've become addicted to this energy. The beauty of these green smoothies is that you can experiment with flavors and add anything you enjoy. You can substitute flax oil for coconut oil, add mango, raspberries, apples or cinnamon. Anything goes. And typically what happens is that when we start off our day with healthy choices, we tend to continue that pattern the rest of the day. Good habits beget good habits.
Photo Credit: Joanna Slodownik
---
About the Author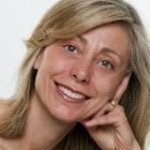 Lucia specializes as a holistic nutritionist for athletes, as well as for general health, wellness and weight management. As an avid runner and marathoner, her passion for nutrition has been part of a life-long quest for natural health and peak performance. As the mother of 3 boys, she understands the importance of balance and nutrition in order to enjoy a full and active life. Whether fueling for training, recovery or simply to reach optimal health, the food we put into our bodies is the cornerstone for energy and vitality.
Her practice (FitBody Nutrition) is based on the philosophy that each of us must become an active participant in our own health. She draws on her background as an educator, as well as her passion for helping others, to guide clients through their own journeys to achieve their personal health goals. Knowing that a fit body begins on the inside, her holistic approach emphasizes whole foods as well as lifestyle counseling. She helps everyone from weekend warriors to elite athletes find their own balance, and to work towards achieving enhanced strength, endurance, stamina and optimal wellness.
Lucia holds a B.A., M.A. and B.Ed and in June 2011 will graduate from the Institute of Holistic Nutrition as a Certified Nutritional Practitioner (CNP).