How Can I Mask The Vinegar Smell of Cleaners?
By Lisa Tsakos on March 27, 2009
Q: I prefer to use vinegar to clean glass surfaces rather than commercial cleaning products, but I don't like the odor it leaves behind. Is there a safe way to mask the vinegar smell?

A: Here's an easy recipe for a homemade glass cleaner: In a spray bottle, combine 1 cup of white vinegar, 15 drops of lemon essential oil, and ½ cup of water. Shake before using.

---
By
Lisa Tsakos
|
March 27, 2009
About the Author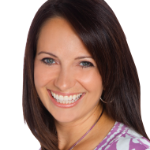 Lisa Tsakos