How to NOT Shop Till You Drop: Your Holiday Shopping Menu Plan
By Naturally Savvy
It's that time of the year again.. Thanksgiving! And we are grateful to all of you who visit our website on a regular basis. Thank you! This year we've got you covered for your Black Friday shopping weekend or any holiday shopping that you have planned. We put together some simple tips and tricks, along with a sample menu plan, that will help you maximize your time, and get through the day with energy to spare. Important Things to Remember:
Stay hydrated. Start your day off with two glasses of water, and be sure to take some with you so you can sip throughout the day. Water helps to combat fatigue and boost brain function, allowing you to optimize your shopping experience with more energy and smarter choices.

Eat. Make sure you eat a substantial breakfast before you leave the house so you start out strong. Snacking throughout the day will keep your blood sugar balanced so you don't end up reaching for a candy bar when you suddenly realize you haven't eaten in hours! Bring some healthy food along with you so you can avoid unhealthy fast food options at the food court, as well as the long wait times. Spending time preparing food before you go will equal time saved and mean more time for shopping!

Include protein at each meal. This will keep your blood sugar balanced and your energy consistent throughout the day.
Sample Menu Plan:
Pre-Breakfast: Upon waking, drink 2 cups of water. This will get your bowels moving and give you energy for the day. Choose room temperature, filtered water or warm water and lemon, and avoid coffee and black tea which are dehydrating.
Breakfast: Make sure breakfast is substantial and contains protein. Avoid carbohydrate-rich breakfasts like cold cereal if you want to keep blood sugar balanced and energy consistent throughout the day.
Lunch: Don't be tempted to skip lunch, and make sure you add protein to this meal too. Make it substantial. This will keep things running smoothly and blood sugar balanced for the remainder of the day. A balanced, nutritious lunch will help to ward off late night cravings so you will be less tempted to reach for unhealthy choices when you get home.
Snack: Be sure to bring healthy snacks with you so that you are less tempted to go for the candy bars and junk food that will zap your energy and put a damper on your day.
Dinner:
When you get home from your day, relax and unwind with a warm, homemade meal. If you have eaten throughout the day as recommended above, all you need is a light, replenishing meal to end your day.
Don't be tempted to go for fast food. All it takes is some thinking ahead and a little preparation. Enjoy!
Remember to sip water throughout the day!
Image via: Cathy Russell
---
By
Naturally Savvy
|
November 24, 2016
About the Author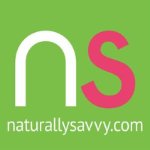 Naturally Savvy