How to Go Gluten Free Without Spending More Money
Whether as a result of a gluten allergy or Celiac disease, you're sticking to a gluten-free diet. But at the same time, the gluten-free section of the grocery store is causing your budget to take a hit. Removing gluten from your diet doesn't have to be so pricey, with a few simple steps so you can go gluten-free and stay on a budget at the same time. Here's how: 1. Know what you're looking for at the grocery store.
On a gluten-free diet, you're just avoiding gluten, which is found in wheat and all sorts of other grains including buckwheat, barley, and malt. However, there are a number of foods that are naturally gluten-free including corn in all forms, rice, and grains made with nuts, beans, or coconut. This means you don't have to head to the over priced gluten-free section in order to find acceptable foods - these foods can be found all over the store. Read more about what to look for when choosing gluten-free foods
2. Buy in bulk.
Many gluten-free foods including beans, nuts, dried fruit, and gluten-free flours can be found in the bulk section at a discounted rate. Plus, if you bring your own bags, you don't waste all that packaging.
3. Learn to cook.
Prepared gluten-free foods are always more expensive. By learning to cook you can avoid the cost of shopping dramatically. Try to cook at least 3-4 times per week to start. And include a precise grocery list. At the top of the grocery list include the meals that you'll be making that week and just below them all the ingredients needed to make those foods. Also, include any snack foods or other necessities that you'll need that week.
Read more about gluten-free baking mistakes
[Editor's Note: If you want to learn more about gluten and how to avoid it, click here to sign up for Naturally Savvy's Gluten-Free Get Healthy Challenge.]
---
About the Author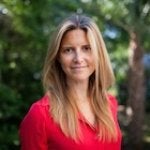 Sara Novak specializes in health and food policy writing for Discovery Health. Her work has also been featured on TreeHugger, HowStuffWorks.com, TLC Cooking, and Animal Planet. After graduating from the Grady School of Journalism at the University of Georgia, Sara headed up the communication efforts for a national scholarship program in Washington, D.C. Sara has also handled copy writing and public relations for a global environmental consulting firm. She loves fiddling with healthful recipes, traveling, and exploring life atop her yoga mat. Today, Sara lives in Charleston with her husband and two lovable cocker spaniels, Madison and Bella.