Mercury Poisoning: Eating Fish is Even More Dangerous Than We Thought
Fish is not as healthy as U.S. Dietary Guidelines would lead you to believe, according to a new report from the Environmental Working Group. While U.S. Dietary Guidelines recommend that Americans eat up to 12 ounces of seafood per week, EWG says that amount may be dangerous for some because of the risk of mercury poisoning.
Mercury is a naturally occurring element that never breaks down. It's also a pollutant caused by coal-fired power plants, boilers, steel production, incinerators, and cement plants. It binds to proteins in fish so it's found throughout. Decades of industrial pollution and mercury emissions around the world have contaminated the seafood and fish populations found in our waters. This is particularly true of larger, long-lived, deep water species.
Read more about the dangers of mercury
EWG found that mercury concentrations in ten of the most popular seafoods and fish put consumers at an unacceptable risk. Thinner women, especially those who are pregnant, are at an even greater risk. While many people eat fish to get ample omega 3 fatty acids, which are important for both cardiovascular and brain health, the report found that 8 of the 10 most popular types of seafood have very little omega 3 fatty acids. In fact, they're almost completely devoid of DHA and EPA. These include catfish and shrimp. Eight of 10 species make up 90 percent of all American seafood consumption.
No to mention that if every American followed the U.S. Dietary Guidelines for seafood and fish consumption it would put undue stress on fisheries worldwide. And overfishing is already a huge problem.
Just one 4-8 ounce serving of salmon weekly gives you 100 percent of your RDA of omega 3 fatty acids. Additionally, one 4-8 ounce serving of mussels, sardines, farmed trout, and herring also supply 100 percent of your RDA of omega 3 fatty acids.
Read more about why kids need omega 3 fatty acids
If you're going to eat fish, choose those that are the least contaminated and have the
greatest health benefits
.
• Anchovies
• Herring
•
Mussels
• Salmon
• Sardines
• Shad
• Trout
Avoid these fish that have the highest levels of
mercury contamination
and are the most likely to cause mercury poisoning.
• Canned Albacore Tuna
• Halibut
• King Mackerel
• Swordfish
• Seabass
• Shark
• Spanish and Atlantic Mackerel
• Tilefish
• Tuna Steaks
Image: svenwerk
---
About the Author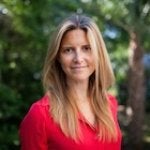 Sara Novak specializes in health and food policy writing for Discovery Health. Her work has also been featured on TreeHugger, HowStuffWorks.com, TLC Cooking, and Animal Planet. After graduating from the Grady School of Journalism at the University of Georgia, Sara headed up the communication efforts for a national scholarship program in Washington, D.C. Sara has also handled copy writing and public relations for a global environmental consulting firm. She loves fiddling with healthful recipes, traveling, and exploring life atop her yoga mat. Today, Sara lives in Charleston with her husband and two lovable cocker spaniels, Madison and Bella.