The Health Benefits of a Gluten Free Diet
Although you may be noticing more and more gluten-free products in your health food and even grocery stores, most of us don't know the first thing about what gluten is, why it should be avoided, and what some of the benefits are of "going gluten-free".
Gluten 101
Gluten is a protein naturally found in most grains, including wheat. While there are people (like those with Celiac Disease) whose bodies cannot digest gluten, the reason that gluten-free diets have become exponentially more popular in the last number of years is as a result of the growing number of people who have what is referred to as gluten sensitivity. In the Western World, excess gluten is added in to refined grains in larger amounts than naturally exist, which has contributed to this increase in cases of sensitivity. Unlike allergies that involve quick, severe and even fatal reactions, food sensitivities can have less severe, but have far-reaching effects.
Read more about food sensitivities and allergies in children
Have you suffered from fatigue, headaches, bloating, digestive upset, brain fog, irritability or muscle aches? Well these are just a few of the many symptoms that can be associated with gluten intolerance.
So, how do I know if gluten is the problem?
Well, the easy way to find out is to take gluten right out of your diet through the process of an elimination diet. An elimination diet is a tool that allows people to find out which foods may be negatively affecting them by avoiding and re-introducing the food(s) in question. The key is that the food must be avoided for a period of at least two weeks, and when re-introduced, while symptoms, sensations and emotions are being observed to determine whether it is actually a problem food.
It should be noted that it is common to experience symptoms of withdrawal through the avoidance period on an elimination diet. This is called detox, and it's how our body gets rid of all the junk we've been putting into it for years. So, if you feel sick or just not quite yourself during the avoidance period, pat yourself on the back and be happy that your body is cleansing and healing itself - it's pure magic!
Delicious gluten-free grains include brown rice, quinoa, millet, buckwheat, and amaranth. If you are one of the people whose body is shouting for you to ditch the gluten, visit your local health food store, ask about the gluten-free grains and products and see the plethora of awesome information there is out there. As a fellow gluten-free foodie I can tell you that going gluten-free is a healthy and delicious decision you won't regret!
Read more about the top 10 places gluten may be hiding in your diet
[Editor's Note: If you want to learn more about gluten and gluten-free diets, click here to sign up for Naturally Savvy's Gluten-Free Get Healthy Challenge.]
Image: kidmissile
---
About the Author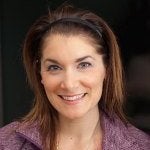 Lisa Batson is a Holistic Nutritionist and Wellness Consultant who is passionate about whole foods and their ability to balance health and complement lifestyle.

Her company, Live Dynamic, empowers others to strive toward optimal health by providing individualized nutrition and lifestyle programs to match diverse lives, goals and needs. Live Dynamic also provides corporate wellness programs to organizations looking to keep their employees efficient, vibrant and happy long term.

Lisa believes whole-heartedly in the interconnectedness of mind, body and spirit, and hopes to share the power and clarity she has found through a healthy and balanced lifestyle, so others can experience what it means to Live Dynamic!