Smart Phone App Highlights Gluten-Free Products
People with the autoimmune disorder celiac disease (CD) experience a toxic reaction when they eat gluten, the common name for the proteins in certain grains. The toxic reaction does damage to the small intestine, and doesn't allow food to be absorbed properly. People with CD are affected by even small amounts of gluten in foods. Gluten is found in all forms of wheat, rye, barley and triticale. It can be hard for CD sufferers to find gluten-free products. People avoiding gluten can use a handy cell phone app called FoodSwitch, a food label scanning app, with a GlutenSwitch mode.
By using their smartphone camera to scan a product's barcode, people with CD can instantly get nutritional information on almost 40,000 supermarket products, including nearly 10,000 gluten-free products. Users can find out if a certain product has gluten, and if it does, alternatives will be recommended, listed by their healthiness. The app also features traffic light-style color-coded ratings for total fat, saturated fat, sugar and salt. Users can also export their lists or share them with friends on social media and email.
Read more about gluten-free options
The app also has a SaltSwitch mode for people who need to know about lower-salt alternatives. Developed by Bupa and The George Institute for Global Health, FoodSwitch was launched in January 2012, and has been downloaded more than 30,000 times.
"Food choices can be really difficult for people with coeliac disease or gluten intolerance," Dr Elizabeth Dunford, lead researcher on the GlutenSwitch initiative at The George Institute for Global Health, said. "Even if you can find a gluten-free alternative it's often very hard to know how healthy it is. GlutenSwitch addresses both these problems."
The app helps people with CD not only avoid gluten, but make healthier choices regarding gluten-free food products. "Having something without gluten doesn't automatically make it healthy and, as with many processed foods, some gluten-free products are high in sodium and saturated fat," said Bupa Chief Medical Officer, Dr Paul Bates.
Read more about the dangers of sodium
The app is currently only available in Australia, and nothing quite like it exists in the U.S. However, there is an iPhone app that can help Americans with CD make informed food choices. It's called Is That Gluten Free? It costs $7.99, and allows users to search for the product and receive information. The app features more than 320 brands, and 14,000 verified gluten-free products.
Photo Credit: Josh Bancroft
---
About the Author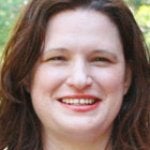 Gina-Marie is a freelance writer armed with a passion for healthy living and a degree in journalism. Hailing from the dry, sunny Central San Joaquin Valley, she hasn't let the heat fry her brain!