Study: No Link Between Eggs & Heart Disease
Heart disease is a health crisis and remains the leading cause of death around the world.
One of the recognized risk factors for developing heart disease is low-density lipoprotein (LDL cholesterol); hence, the American Heart Association recommends that a maximum of 300 mg of total dietary cholesterol is consumed per day.
Since each egg contributes 210 mg of cholesterol, the question of whether or not one should consume eggs has been a topic of hot debate among health experts for years.
Finally, after several conflicting studies, a meta-analysis published in the British Medical Journal reveals that egg consumption is not a risk factor for heart disease or stroke.
Data from eight clinical studies with seventeen reports (nine for heart disease and eight for stroke) which involved almost 500,000 participants (263,938 for coronary heart disease and 210,404 for stroke) over an eight to twenty-two year period found no evidence that ingesting one egg a day was associated with the risk of heart disease or stroke.
The study did find, however, that the sub-group of participants with diabetes had a significantly higher risk of developing heart disease with ingestion of an egg a day, but high egg consumption reduced their risk of developing stroke by 25 percent!
What do these findings mean?
This is great news for egg-lovers! It means that you can enjoy an egg each day (or a couple of eggs every other day) without worrying about future heart health. If you are diabetic and heart disease runs in your family, ease off on the eggs (and check out our suggestions for 12 Egg Substitutes, Vegan Style) but if it's a future stroke you're concerned about, eggs are on your side.
While the yolk is where the fat and cholesterol are isolated and the white contains all of the protein, an egg's vitamins and minerals are evenly distributed between the two parts. Eating the whole egg is recommended (for nutrients and flavor), but if you're a little cynical about these latest findings, skip a yolk once in a while, and add vegetables to your omelettes and egg sandwiches to augment the nutritional value.

Photo credit: pietroizzo
---
About the Author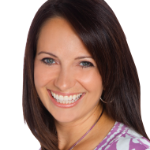 Lisa has been in her own practice for over 15 years and specializes in weight management. She teaches natural nutrition in both corporate and educational environments and is a shining example of someone who practices what she teaches.
Lisa is a nutritionist and educator specializing in weight management. After losing weight several years ago through a more natural diet and by improving her digestion, she committed to sharing her new-found knowledge and returned to school to study nutrition. Over the past decade, her Nu-Vitality Weight Program has helped employees at numerous corporations lose thousands of pounds. In addition, Lisa regularly consults for groups and individuals with unique nutritional needs such as police officers and athletes. Lisa has been featured on the Discovery Channel, numerous radio programs and is a contributor to various publications. Additionally, she teaches nutrition at multiple post-secondary schools, has taught natural food cooking workshops, and authored two books.