The World Health Organizations Finds Links Between Red Meat and Cancer
That steak you love to eat just might increase your cancer risk. The International Agency for Research on Cancer (IARC), the cancer agency of the World Health Organization (WHO), classified eating red meat as "probably carcinogenic to humans" and processed meat as "carcinogenic to humans." The classifications are part of recommendations the agency issued on red meat and processed meat and cancer.
Read more about processed meat
A group of 22 experts from 10 countries researched the link between cancer and red meat and processed meat. They looked at over 800 studies on the associations of of over a dozen types of cancer with red meat or process meat consumptions. The findings were published in The Lancet.
The experts found that red meat was mainly associated with colorectal cancer, but observed associations for pancreatic and prostate cancer. The association between red meat and cancer is "based on limited evidence that the consumption of red meat causes cancer in humans and strong mechanistic evidence supporting a carcinogenic effect," a press release stated.
Processed meat was mainly associated with colorectal cancer. The experts concluded that every 50 gram portion of processed meat consumed daily increases the risk of colorectal cancer by 18 percent.
The IARC considers red meat to be "all types of mammalian muscle meat," including beef, veal, pork, lamb, mutton, horse and goat. Processed meat is considered to be "meat that has been transformed through salting, curing, fermentation, smoking, or other processes to enhance flavor or improve preservation." For example, hot dogs, ham, sausages, and corned beef are all considered to be processed meat
"For an individual, the risk of developing colorectal cancer because of their consumption of processed meat remains small, but this risk increases with the amount of meat consumed," said Dr Kurt Straif, Head of the IARC Monographs Program. "In view of the large number of people who consume processed meat, the global impact on cancer incidence is of public health importance."
"These findings further support current public health recommendations to limit intake of meat," said Dr Christopher Wild, Director of IARC.
The consumption of red meat has decreased in the U.S. by about 25 percent since the mid-1970s, according to the U.S. Department of Agriculture (USDA). However, Americans eat around 1.9 pounds of red meat a week, and that is almost double the European Union's recommendations of no more than 500 grams (1.1 lbs) of cooked red meat a week, the National Resources Defense Council (NRDC points out).
Read about meat and antibiotic resistance
What does the IARC's recommendations mean for meat lovers? As the NRDC suggested, "eat less and better meat." Find meat that is raised sustainably, with less impact on the environment and from livestock not given antibiotics. That is better for you and for the planet.
Editor's note: When choosing meat, look for companies that do NOT use antibiotics, hormones, nitrates, GMOs, or any other other chemicals or additives like Applegate.

Photo: TheBusyBrain
---
About the Author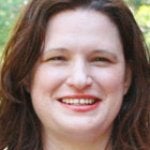 Gina-Marie is a freelance writer armed with a passion for healthy living and a degree in journalism. Hailing from the dry, sunny Central San Joaquin Valley, she hasn't let the heat fry her brain!