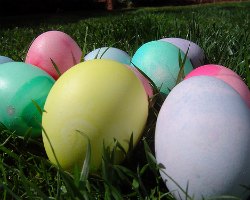 There's a lot of talk about managing your child's post-Halloween sugar binge, but what about all the Easter treats? You might be surprised to learn that in terms of candy sales in the US, the top selling occasion is Halloween followed by – not Christmas, but Easter.
This year, think twice before giving a child a basket filled with Marshmallow Peeps, jelly beans, and chocolate bunnies – in other words, sugar, artificial colors, and caffeine.
Ninety million chocolate bunnies are made just for Easter each year! Packed with polyphenols (antioxidants), bunnies or eggs made from dark chocolate and all-natural ingredients are a welcome (and often expected) treat. Before buying Easter chocolates for the kids (or for yourself), keep in mind that chocolate contains caffeine and read all labels carefully to ensure that artificial colors, artificial flavors, high-fructose corn syrup, partially hydrogenated oils (trans fats), and TBHQ are avoided. Although it doesn't pose a danger to health as far as we know, the cheap emulsifier and cocoa butter replacement, PGPR (which is made from castor oil) is an indicator of poor quality chocolate.
Those tasty white chocolate bunnies… they contain cocoa butter1, sugar, milk, and vanilla but no cocoa solids (in other words, none of cocoa's powerful antioxidants).2 In fact, white chocolate is so unlike chocolate made from cocoa that in some countries, it's forbidden to call it 'chocolate'! On the plus side, white chocolate has less than 2 mg of caffeine. Caffeine is naturally found in cocoa beans. An average-sized chocolate bar contains about 30 miligrams of caffeine. (In comparison, a cup of coffee has anywhere from 80 to 155 mg.) Dark chocolate is healthier than milk chocolate, but it contains much more caffeine – about 20 mg per ounce compared with 6 mg in an ounce of milk chocolate. Keep all of this in mind when you hand the Easter basket over to your kids. Combining sugar with caffeine in a small child's body is a recipe for a boisterous holiday afternoon!
Caffeine can also be hiding in jelly beans! The miniature egg-shaped treats became associated with Easter over eighty years ago and today 16 billion jelly beans are made just in time for the holiday. The popular brand, Jelly Belly jelly beans contain coffee and added caffeine. The worst ingredients in jelly beans, however, are the numerous artificial colors used to dye them the pretty pastel or bright colors kids love. Artificial dyes are linked with behavioral problems and have been shown to exacerbate symptoms of ADD/ADHD. Instead, look for jelly beans made with natural colors (and no caffeine). Surf Sweets makes a fantastic option.
Most of the commercially made pastel-colored Easter candies are laden with artificial colors, including the top-selling marshmallow Peeps. More than 700 million Peeps are sold each Easter, but don't expect to find any sort of nutrients in them. They're made of sugar, corn syrup, gelatin, potassium sorbate, artificial flavors and colors, and carnauba wax.
Each year, 88 percent of us create an Easter basket for our kids. While there's nothing wrong with including one good quality dark chocolate egg or bunny in a colorful basket, rather than adding more candy, bulk it up with Easter grass (shredded tissue paper) and non-edible treats. Small stuffed animals – a chick, bunny or lamb – make great basket-buddies. Instead of enduring the sugar- and artificial color-'crazies', enjoy some quiet time with friends and family while your kids can color pages of Easter-related images printed from the internet. Be sure to include a box of crayons. Play-Doh has a line of "Treat without the Sweet" Easter products (contains wheat) that will also keep kids busy; and finally, include in your basket plenty of stickers – a favorite on any occasion.
Learn more about enjoying your favorite treats without all of the chemicals: Unjunk Your Junk Food
More Unjunking:
References:
http://www.history.com/topics/easter-symbols
http://www.infoplease.com/spot/eastercandy1.html#ixzz1p3FzpUm1
Jelly Belly Spring Mix jelly beans
1CFR – Code of Federal Regulations 21
2 Food Lover's Companion p135-136
Photo Credit: vanherdehaage/cc