5 Party Foods That Should Be Banned From Your Super Bowl Celebration
Super Bowl parties are synonymous with snacks, both sweet and salty varieties. But by serving these tempting party foods and drinks, are you inviting something scary to your party?
Make the most of your Super Bowl by ditching these party foods and opting for healthier ingredients.
1. Velveeta Cheese This popular Super Bowl food is a total penalty! Velveeta may seem like a fun addition to dips and sandwiches on game day, but it's no fun for your health. Loaded with processed dairy (which most likely contains antibiotics and growth hormones), artificial flavors and not so natural colors, your body will not be scoring any touchdowns here. Instead opt for organic cheese shreds, or try a dairy-free option like Daiya.
2. Processed Meat Super Bowl Sunday might seem like the perfect time for a meaty sandwich, but you're going to want to skip the deli, hot dogs and other processed meats for good reason. Loaded with cancer-causing nitrites, high levels of sodium, and preservatives, some deli meats even contain artificial colors! And you can be quite sure that if your meat isn't coming from organically raised animals, you'll be eating loads of pesticide-covered genetically modified grains, growth hormones and antibiotics. Look for hormone-free, antibiotic-free meats like Applegate Farms.
3. Beer What's a football game without beer? But did you know that beer can be home to all sorts of unhealthy (and Scary Seven!) ingredients like high fructose corn syrup, artificial colors and flavors, GMOs, and even really gross ingredients like fish bladders, according to the popular blog Food Babe. And here's the real kicker: Beer companies don't have to disclose their ingredients, so you don't know what you're getting! Opt for organic beers when available, or skip the booze altogether.
4. Soda Diet or regular, sodas are loaded with yucky and bad-for-you ingredients. The sweetened kind includes high fructose corn syrup, which has been linked to diabetes and obesity. And the conventional diet kind aren't much better, with artificial sweeteners that have been connected to cancer, neurological and reproductive issues. Choose healthier options sweetened with either stevia and erythritol.
5. Snacks Chips, popcorn, crackers, and candy may all contain Scary Seven ingredients like artificial flavors, artificial colors and MSG. Look for snacks that have clean ingredients. Download or print our Scary Seven chart and take it shopping with you this weekend so you know exactly which ingredients to avoid.
I had some fun making this video to drive the point home about how unhealthy some Super Bowl snacks can be. The good news is that there are many healthier options to choose from as listed in our book, Unjunk Your Junk Food. Fortunately, with the right foods, you can satisfy your game day snack appetite without sacrificing your health. I hope you enjoy watching it!
What are some of your favorite healthy party foods?
[Editor's Note: If you want to eliminate unhealthy ingredients and chemical additives from your diet for good, click here to sign up for a Naturally Savvy Get Healthy Challenge.]
---
About the Author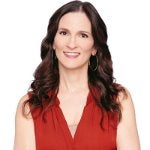 Founder & Chief Passionista at NaturallySavvy.com. See my full bio here.