What's Up With Flavor?
---
About the Author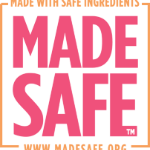 MADE SAFE certified products have been examined by scientists to ensure they're made without known behavioral toxins, carcinogens, developmental toxins, endocrine disruptors, flame retardants, GMOs, heavy metals, neurotoxins, high-risk pesticides, reproductive toxins, toxic solvents, or harmful VOCs. Ingredients have been further examined by a chemist for bioaccumulation (builds up in our bodies), persistence (builds up in the environment), and general and aquatic toxicity. Find
more products made from safe ingredients
.