Whole Foods Commits To Full GMO Labeling

A major development in the fight to label GMO foods occurred on March 8, 2013. Whole Foods Market announced at the Natural Products Expo West that all products with GMO ingredients sold in its U.S. and Canadian stores will be labeled by 2018. It is the first national grocery chain to set a deadline for complete GMO labeling, or as a press release states, "full GMO transparency."
Whole Foods already sells non-GMO verified products, including its 365 Everyday Value line which is Non-GMO Project verified. The grocery store chain sells a total of 3,300 Non-GMO Project verified products from 250 brands. This is more than any other grocery store chain in North America.
A blog post by Whole Foods on its decision to require GMO labeling on all products reveals several reasons why the company made the decision. One of the reasons is that its customers wanted GMO products labeled. Walter Robb, co-CEO of Whole Foods stated, "We heard our customers loud and clear asking us for GMO labeling and we are responding where we have control: in our own stores."
Another reason why Whole Foods made the decision to require GMO labeling is that there is money to be made from non-GMO verified products. Non-GMO Project verified products, according to the blog post, are "among the fastest growing sellers in our non-perishable grocery category."
And here's yet another reason. Many states are currently considering enacting labeling laws. "While we are encouraged by the many mandatory labeling initiatives, we are committed to moving forward with our own GMO transparency plan now," said Robb.
Given the sheer size of Whole Foods, the company's decision on GMO labeling will likely have a ripple effect in the food industry. As A.C. Gallo, president of Whole Foods, said, the decision "will encourage manufacturers to ask deeper questions about ingredients, and it will help us provide greater transparency about the products we sell so our customers can be empowered to make informed decisions about the foods that are best for them."
Food Advocacy Groups Praise Whole Foods
Environmental and food advocacy groups are praising Whole Foods for their decision to require GMO labeling on all relevant products. One of these groups is the national coalition, Just Label It. Gary Hirshberg, chairman of Stonyfield Farm and board chair of Organic Voices, a national nonprofit organization stated that "Whole Foods is doing the right thing for consumers by giving them more information about what is in their food. We urge other business leaders to work with us to give every American the same right as consumers in 62 other countries."
The Environmental Working Group also praised Whole Foods Market for its GMO labeling decision. "Today's announcement by Whole Foods will give consumers the information they need to make the right choice for their families," said Ken Cook, president of EWG and a board member of Organic Voices. He then added, "This announcement will add new urgency in efforts to require GE labeling in more than 20 states and put new pressure on the Obama administration to fulfill the promise that then-presidential candidate Barack Obama made in 2007."
Photo Credit: ilovemypit
---
About the Author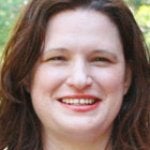 Gina-Marie is a freelance writer armed with a passion for healthy living and a degree in journalism. Hailing from the dry, sunny Central San Joaquin Valley, she hasn't let the heat fry her brain!