Whole Foods, Trader Joe's Sued Under California's Prop 65 Law
The state of California filed a lawsuit against food retailers, including Whole Foods and Trader Joe's, claiming that the retailers are selling ginger and plum candies containing lead, but lack the warning labels required by state law. The office of Attorney General Kamala Harris filed the lawsuit on April 30 in San Francisco Superior Court. Target was also named in the lawsuit.
The attorney general's office says that laboratory tests verified that lead is in the candies, the Huffington Post reports. The amount of lead in the candies was not specified
"Defendants ... have knowingly and intentionally exposed individuals within the state of California to lead," the lawsuit states.
The lawsuit names Whole Foods' "bulk ginger" and the Ginger People Baker's Cut Crystallized Ginger Chips. Trader Joe's un-crystallized candied ginger is also named in the lawsuit.
Universityof Southern California's Annenberg TV News received a response from Whole Foods through the company's Twitter handle: "We are actively looking in to this with our suppliers. You are always welcome to return that to your local store."
Under Proposition 65, or the Safe Drinking Water and Toxic Enforcement Act of 1986, businesses are required to give a "clear and reasonable warning" concerning exposure to a chemical known to cause cancer or reproductive harm. Violation of the law carries a penalty of up to $2,500 a day for each violation.
Exposure to lower lead levels has been associated with "measurable changes in children's mental development and behavior," according to the National Institute of Health (NIH). The changes include: hyperactivity, problems with fine motor function, hand-eye coordination, reaction time, and lowered performance on intelligence tests. Chronic lead exposure in adults can cause increased blood pressure, decreased fertility, cataracts, nerve disorders, muscle and joint pain, and memory or concentration levels. "No amount of lead is safe," the NIH states.
Photo Credit: That Other Paper
---
About the Author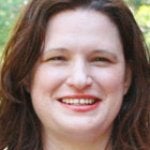 Gina-Marie is a freelance writer armed with a passion for healthy living and a degree in journalism. Hailing from the dry, sunny Central San Joaquin Valley, she hasn't let the heat fry her brain!