Why is Breakfast Important?
I hate to tell you this, but your mother is right. Breakfast actually is the most important meal of the day. And oddly enough, if there is one thing that tends to be a struggle with most clients I see, it's definitely breakfast.
Breakfast in the Western world is under-appreciated and under-nourishing. What I mean by this is that we grow up with sugar cereal and milk, and the average adult becomes content with a coffee and a commercially made muffin believing this is enough to give them a good start in the morning. Why do we find it so difficult to eat healthy (or at all) in the morning? Here are a couple of considerations:
Blood Sugar
Firstly, maintaining consistent blood sugar levels are key to keeping yourself happy and nourished throughout the day. Fluctuating blood sugar levels cause symptoms ranging from irritability and headaches to lack of concentration and fatigue. Sound familiar? In the morning, our blood sugar is low. If we don't eat first thing in the morning, our bodies start the day in a blood sugar deficit, which translates into diminished brain and body function throughout the day.
Second, missing meals also causes our body to store whatever excess we have as fat, as a kind of starvation coping mechanism. Over time, these patterns caused by missing breakfast translate into lower metabolism and weight gain. The irony is that many people skip breakfast (of other meals) in the hopes of minimizing their caloric intake throughout the day, and end up with the opposite effect in the body. To add insult to injury, consuming a muffin or cereal, which contain mostly refined carbohydrates, doesn't start you off with a much better pattern in the morning. Refined carbohydrates cause the blood sugar to increase drastically and then decrease drastically, causing similar hypoglycemic symptoms that were discussed earlier.
Quick Pick-Me-Up
Lastly, having a coffee in the morning (especially on an empty stomach) has MANY negative effects on the body. Coffee is a stimulant, which acts as a pick-me-up in the short term, but has a depressant effect on the body in the long term. Ultimately, relying on that coffee in the morning to wake you up actually has the opposite effect on the body causing more fatigue. It also causes an unnatural effect on our metabolism, and wreaks havoc on our blood sugar processes, which we are constantly struggling to maintain both in the morning and throughout the day. The irony here is that most of us are reaching for that coffee in the first place because we are tired, and the coffee is only exacerbating the symptoms we are trying to avoid. For those of us who are under a lot of stress, coffee increases the strain on our adrenal glands, which regulate the stress hormones in the body. And yet again, coffee makes things worse.
So, before you reach for that cup of java in the morning like your life depends on it, think twice. It is mostly likely causing more harm that good. Although coffee in moderation is fine, when stress, energy and other imbalances are present, it should be avoided.
So, what should you eat for breakfast? Try to think of it as just another balanced meal, which in an ideal world, includes whole grains, protein, fat and plenty of fresh fruits and vegetables. For some inspiring whole food breakfast ideas, feel free to visit my website at www.livedynamic.ca
Photo Credit: waterlilysage
---
About the Author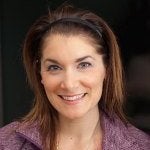 Lisa Batson is a Holistic Nutritionist and Wellness Consultant who is passionate about whole foods and their ability to balance health and complement lifestyle.

Her company, Live Dynamic, empowers others to strive toward optimal health by providing individualized nutrition and lifestyle programs to match diverse lives, goals and needs. Live Dynamic also provides corporate wellness programs to organizations looking to keep their employees efficient, vibrant and happy long term.

Lisa believes whole-heartedly in the interconnectedness of mind, body and spirit, and hopes to share the power and clarity she has found through a healthy and balanced lifestyle, so others can experience what it means to Live Dynamic!