Yellow 6 in Your Kid's Applesauce?
We think of applesauce as a healthy treat, especially for the little ones, because it's made from apples. But what if the ingredient which gives applesauce its bright orange and yellow color wasn't apples at all, but rather, yellow 6, an artificial color that's linked to a host of potential side effects?
Yellow 6, or sunset yellow, is an artificial dye also known as FD&C Yellow #6. It creates an orange to yellow hue in the foods we eat. In addition to apple sauce, it's used in orange soda, jams and jellies, baked goods, dessert mixes, cookies, frosting, cereal, candies, gum, beverages, soup mixes, margarine, chips, macaroni and cheese mix, and condiments -- just to name a few.
Yellow 6 has been linked to learning and concentration disorders in children, as well as kidney and intestinal tumors. One study found mice fed high doses of yellow 6 couldn't swim straight. It's certainly not something you want to feed your little ones.
I have three kids, and I'm always looking for healthy, convenient snack options to give them for lunch at school, but also while we are out and about at the park or after school programs. Upon analyzing the ingredients of Mott's Flavored Applesauce, Mango Peach flavor, I quickly saw it contained not only yellow #6, but also high fructose corn syrup. I mean seriously? Is there really a need for either chemical additive to be added to applesauce? As moms, I'm sure many of you would agree that we think we are doing something good by feeding our kids apples, when in Mott's case, we are really feeding them artificial colors and a highly processed sweetener known for causing obesity, excess belly fat, insulin resistance, and heart disease. Shaking head. This frustrates me.
The good news is while my co-author and I were researching healthier options for our e-book Label Lessons: Unjunk Your Lunch Box, we found a clean, organic option that doesn't contain any of the unnecessary chemical additives that Mott's does. It's called GoGosqueeZ.
Below is a brief summary of what we found:
GoGo Squeez, Organic Apple Peach On The Go
This applesauce is made with organic apples and peaches along with organic apple juice. It's a great on-the-go food for toddlers and a perfect lunch box treat for the older kids. My kids LOVE GoGosqueeZ!
An apple a day really does keep the doctor away. Apples reduce cholesterol along with the risk of heart disease. They protect against colon cancer due to the potent flavonoid quercin, along with phenolic acids, and the soluble fiber pectin.
And you know what it doesn't have? Yellow 6 and high-fructose corn syrup! Instead, GoGosqueeZ, Organic Apple Peach On The Go gets its bright color from none other than apples! Imagine that. They are:
Organic (available at Whole Foods Market);
Do not contain: artificial colors, artificial flavors or artificial preservatives;
There is no added sugar or worse, high fructose corn syrup.
Packing healthy, chemical-free lunch box treats helps our kids perform effectively at school. GoGosqueeZ gets an A+ in my book.
Photo Credit: di.wineanddine
---
About the Author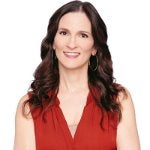 Founder & Chief Passionista at NaturallySavvy.com. See my full bio here.