Paige Padgett - Green Beauty Expert
This month on Naturally Speaking I sat down for a chat with Paige Padgett, makeup expert and authority on all things 'green beauty.' Here's what she had to share:
Naturally Savvy Question (Andrea): When did you first become interested in living a 'green lifestyle'?
Paige Padgett: About 5 years ago I saw Ken Cook from the Environmental Working Group (EWG) speak about chemicals in our environment and he spoke about how these chemicals never go away -- and the connection between chemicals and make-up just clicked for me. Having been a successful makeup artist in Hollywood for numerous years, I wanted to prove that leading a chemically safe lifestyle can be sexy and civilized -that you don't have to sacrifice glamour for being green.
When most people talk about chemicals in cosmetics they tend to be advocates for healthier change – but few are make-up artists who can explain how it works. That's when my career truly changed from being a makeup artist to a Green Beauty expert.
Naturally Savvy Question (Andrea): Do your green beauty interests extend to all facets of your life?
Paige Padgett: Definitely. I think everyone should realize that little changes have big impacts. For instance, I purchase used cars, forego plastic bottles and any plastic bags when shopping. I recycle and green my work environment by incorporating green products into my company and the PaigePadgett.com team rarely uses paper in the office. Eating organic is also a huge part of who I am. I'm a Lacto-Ovo vegetarian (I only eat eggs and dairy) and I buy local produce. But that doesn't mean I don't indulge. (laughs) I'm a sucker for dark chocolate and eco-friendly wines and Champagne!
Naturally Savvy Question (Andrea): I took a look at your client list and I'm happy to see so many celebrities and large companies interested in using green beauty products. Did they ask for it, or did you bring the concept to them?
Paige Padgett: In most cases, I've brought the concept to them. Becoming clean is a continual process, so we take things step-by-step and I usually have these relationships for numerous years. It's a wonderful and sometimes chaotic lifestyle but just knowing that people are wanting to be more chemically safe helps to motivate me - even when I'm exhausted from a crazy travel schedule or just want to sleep in!
Naturally Savvy Question (Andrea): Being a make-up artist - is it realistic to be able to do your job well by only using all-natural, green, clean make-up?
Paige Padgett: It is hard to be 100% clean in my industry because brighter, more vibrant colors are needed. However, I do think my cosmetic options will continue to grow as people learn more about chemically safe makeup. I approach green beauty like a diet – in terms of our skin, it eats a high percentage of what you put on it (60%). At this point, I always say if you are clean all week and you want to wear the blue eye shadow on the weekend, then wear. It is the 80/20 rule -- you can pick and choose your chemicals for the other 20 percent.
Naturally Savvy Question (Andrea): How do you maintain balance in your life?
Paige Padgett: Being a work-a-holic, balance is really something I am trying to work on. I travelled a lot doing Jillian [Micheals] show "Losing It". We worked 14 to 16 hours a day and were on the road for three and a half months but I did manage to do Jillian's Yoga Meltdown in my room. Between "The Biggest Loser", working on my Sexy And Civilized book series, my website (www.paigepadgett.com) and speaking engagements - it's hard to turn-off and just unwind. I want my next project to be, a two-week vacation to India. (laughs)
Be sure to check out Paige's website for clean beauty products and tons of resources that will help to educate you in all things 'green beauty.' Thanks, Paige!
---
About the Author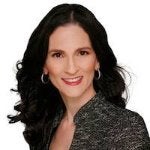 Founder and Editor-in-Chief of NaturallySavvy.com. She is passionate about living a natural and organic lifestyle and reading food labels. She is a mom to three beautiful children who love ground flaxseed & fish oil.