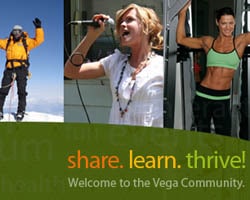 Finding support is one of the most important elements to making lasting lifestyle changes. If you've chosen to move toward a plant-based diet-whether vegetarian, vegan, or part-way there-there's lots to learn. Where do you get protein? Which foods are best for B12? What options do I have when I'm eating out?
Vega-the leader in plant-based nutrition products-has created a number of resources to help answer your questions and support your plant-based lifestyle:
Thrive in 30: Learn the basics of plant-based nutrition from a pro. Brendan Brazier, professional triathlete and bestselling author of The Thrive Diet, presents Thrive in 30-a free online wellness program designed to increase knowledge about plant-based nutrition, optimize physical and mental performance, and offer a fresh approach to total body health. Health enthusiasts receive 12 lessons by email over a month, each touching on a different key health-enhancing topic. In addition to written content, each lesson includes a brief and intimate video segment where Brendan reviews key principles and provides suggestions on how the ideas can be seamlessly applied by anyone. www.thrivein30.com
Vega Community: Living a whole foods, plant-based lifestyle is easier with community support. Connect with like-minded individuals who share your commitment to nutrition, wellness, and sustainability by joining the Vega Community. The Vega Community shares blogs, recipes, discussions, trends and events. Become a member at www.vegacommunity.com.
Thrive Challenge: Inspired by the lifestyle changes recommended in Thrive in 30, the Thrive Challenge is designed to keep you on track, share in your successes, and inspire even greater change to help you achieve optimal health. This month-in honor of back to school-the focus is healthy snacking:
The Challenge: Add one Thrive-friendly snack to your day and share it with the community.
September's Thrive Challenge Prize: A 12-pack of Vega's newest snack bar, Vibrancy Bars.
Complete details can be found on the Thrive Challenge page in the Vega Community.
To find out more and join the ongoing discussion about the myriad benefits of a plant-based diet and connect with like-minded people, visit: www.vegacommunity.com.