7 Surprising Ways to Deal with Holiday Stress
The holidays can be a magical time — getting together with loved ones, seeing family and friends we don't always have time for, and great meals. But for all the magic, they can also be stressful. From family members asking questions about when we're getting married or having another baby, to guilt trips about not seeing Great-Aunt Mildred enough, to comments just how much we eat,
our adrenals
can go into overtime to deal with all the extra stressors.
1. Have a game plan
Just like a coach never goes into the big game without a plan, it's a good idea to take some time to figure out your emotional coping strategies before the holiday dinner. First, map out your biggest trigger points and then identify what you'll do if a situation comes up. Maybe text your best friend a silly emoji, practice deep breathing, or even take a quick walk to find some peace. Your plan doesn't need to be complicated — it just needs to work.
2. Don't drown your sorrows
It can be tempting to take a drink every time something frustrating happens, but that's only going to make you feel worse emotionally and physically. Feel free to have a
healthy cocktail or two
, but make sure you're drinking lots of water, and reach for a cup of calming chamomile or mint tea if you really want a liquid to steady your nerves.
3. Take your supplements
Holidays can mean a break in our usual routine, but things like supplements are more important than ever during potentially stressful times. Look for stress-relievers like bee pollen, vitamins B and C, Echinacea, St. John's Wort, and consider a magnesium supplement, which helps ease anxiety and regulate the body's stress levels. We recommend a high-quality supplement like
Natural Calm
, from our partner Natural Vitality.
Read more about magnesium
4. Be present
It can be tempting to take out your phone when you hear the same childhood story for the tenth time (this year). But being present and enjoying yourself and your company can actually make the holidays more enjoyable overall. Save the screen time for a sanity-saving mindfulness app or chat with a friend later.
5. Tame your tummy
Travel, overindulgence, and emotional eating can wreak havoc on our stomach. Aside from being mindful of what we put in our bodies (which can be hard to do during the holidays), a digestive enzyme can help ease the burden on your digestive system. And the same mint tea that will keep you calm can help with stomach discomfort.
Read more ways to improve digestion
6. Kill them with kindness
Sometimes, the best thing you can do is smile politely and change the subject – or pretend you didn't hear anything at all. Sure, it can be rewarding to have a healthy debate, but before you get into it with Uncle Fred, ask yourself if this is going to bring more peace or more stress into your life. If it's the latter, make like Elsa and let it go.
7. Focus on the big picture
Remember this is a short period of time. Take extra time for self care before and after — get lots of sleep, regular exercise (consider an extra yoga class or two), and eat well. If you're traveling, take the time to
tidy your house before you leave
so you can come home to a calm, clean environment. Consider putting in some volunteer hours or donate to a cause that's close to your heart. Finding something meaningful and personal will keep the holidays special.
---
About the Author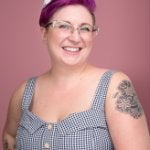 Steph is a writer and editor with a love of tea, books, and horror movies. Steph grew up under the impression that most meals came out of a box and had to contain some sort of animal protein. When an interest in a more environmentally friendly way of living led to her vegetarianism in 2012, she decided to teach herself how to cook. You can catch her kitchen wins (and the occasional opportunity for improvement) on Instagram @_stephinitely_.