Are There Toxins Lurking in Your Family's Clothes?
We do everything we can to limit our family's exposure to toxins. We avoid the Scary Seven, choose organic food whenever possible, and studiously read labels on our personal care products. But when it comes to everyday contact with harmful chemicals, there's one place we don't always remember to look: our clothing.
Our skin is our largest organ that can absorb toxins, and while we typically talk about personal care products like lotions or deodorant when we say "what goes on the body goes in the body," the same reasoning applies to our clothing.
There are thousands of toxins used in the fashion industry, and many of them stick around long after you wash them. Most of today's synthetic fibers are treated with chemicals, which can travel into the bloodstream after being absorbed by the skin. These chemicals are especially worrisome in exercise clothing. With the popularity of the "athleisure" look, we often wear our yoga pants well beyond the studio, and in the process are exposed to toxins on EWG's Dirty Dozen list of hormone disruptors such as phthalates, PFCs, dimethylformamide (DMF), nonylphenol ethoxylates (NPEs), and nonylphenols (NPs).
Other clothing to watch out for is anything labelled "easy care" or "wrinkle free", waterproof or water repellant, sweat resistant, anything that's been treated to be antibacterial or antifungal, and flame retardant. Reactions to these toxins can vary from allergy-like symptoms to more serious health problems:
Fatigue

Vomiting and nausea

Itching/burning

Rashes that may turn cancerous

Headaches

Difficulty breathing

Vision problems

Inflammation

Recurring sinus infections

Liver damage
How to avoid toxins in clothing:
Avoid fabric with screen printing or plastic prints

Stick to natural fabrics such as cotton, silk, and wool

Stay away from performance fabrics (sweat-wicking, etc.)

Wash clothing before wearing

Line dry when possible

Ditch fabric softener and dryer sheets and buy (or make) natural laundry care products
Read more about natural cleaning products
While it may not be possible to avoid all exposure to toxins, it can be minimized significantly by being careful about which products we eat, use, and wear. By reading the labels on clothing carefully before you bring it into your home, you can make the best choice for you and your family.
---
About the Author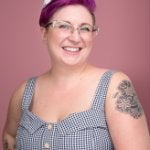 Steph is a writer and editor with a love of tea, books, and horror movies. Steph grew up under the impression that most meals came out of a box and had to contain some sort of animal protein. When an interest in a more environmentally friendly way of living led to her vegetarianism in 2012, she decided to teach herself how to cook. You can catch her kitchen wins (and the occasional opportunity for improvement) on Instagram @_stephinitely_.