Earth Ships: Sustainable, Made-From-Waste Buildings that are Out of This World!
My friend Juniper shops at stores that support local farmers; she recycles and conserves her resources. She has a stinky composting bin in her back yard just behind the dung pile she is saving for later spreading. She is always two steps ahead, but smells two showers behind.

This friend, who constantly needs to satisfy her higher-consciousness efforts on all levels, had a hankering to do more but couldn't get her head around what it should be.

I suggested she build an Earth ship.

Earth ships are real residences made from 100% natural & recycled supplies, and sustain their own food, water and energy resources. These live-off-waste buildings are molded from tires, cans, bottles, concrete and limited lumber are compiled into creative mosaics all throughout the home.


No really, they are called Earth ships. They are 100% sustainable homes that are both cheap to build and awesome to live in. They offer amenities like no other sustainable building style you have come across. And while jokes may roll about the name, don't call it a global "trend." For the architects behind these Earth ships and the residents who live in them, it's a veritable blueprint for what the future of housing might — and should — be like.

Read more: How to Use Food Scraps to Help Your Garden Thrive

With more to their resume than just style and affordability, they are fast becoming a rational solution to combat the wastefulness associated with traditional modern housing.
Juniper met me with the same mystical gaze she met me with when I told her alright, alright, I will attend a Dead Show with you. She loves to nurture others to re-think differently how we live, what we consider societally normal.
Unlike regular homes, each Earth ship is an independent vessel. They use solar or wind energy for power. Rainwater is caught from a roof with a potable surface, channeled through silt catches into cisterns, then gravity-fed into a water-organizing module with a pump and filter. Waste water and sewage is drained and filtered via linear, biologically-developed gray-water treatment and containment systems. Propane tanks, refilled each year, offer gas for stove-top cooking. And fresh produce is grown onsite via indoor food production areas and veggie beds.
So when the power goes out in town, Juniper's Earth ship, along with her community Earth ship members still have warm homes, Internet, working fridges and grow lights. Plus, Earth ship community members don't pay any utility bills.
"Off the grid!" she shrieks.


Besides, I try to lube Juniper, not only are tires easy to get, some places will pay you to take them away! There are plenty of tires, bottles and aluminum cans around. Everywhere. Just look. Let's get a garbage bag and go collect a wall for your home!


She's psyched. I have her hooked. I dare not bring up the issue of resale. Would someone really want to buy it from her? And that would, of course, only be a real issue if she could actually secure a building permit, you know, right after she secure that Fannie Mae loan I'm sure the company is dying to give out to an unemployable hippie who wants to build an eco-ship in Golden Gate Park.

Images Sources:
Image 2
Image 3
Image 4
---
About the Author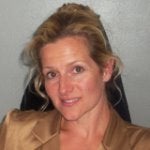 Elizabeth Fournier is affectionately known as The Green Reaper in her tiny community of Boring, Oregon. She is the owner of Cornerstone Funeral Services and works as a green mortician, educator and advocate who is always ready to lend a hand, or a shovel. She is also the voice of the autopsy exhibit in the forensic wing at the United States National Museum of Medicine.