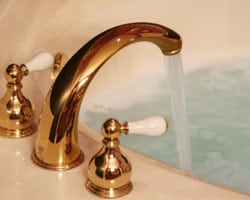 There's nothing like a hot bath to soak away the stresses of the day or to pamper yourself before that all-important date. Most bath connoisseurs go the extra step to add bath salts or bubbles to their ritual. Unfortunately, a lot of bath products contain some rather suspect ingredients (think parabens, petrochemicals, synthetic fragrances. . ., but there are tons of DIY remedies for this problem, and homemade bath bombs are not only fun, they leave your skin feeling soft and rejuvenated.
Bath bombs work a lot like those volcano projects you built in grade school, the ones where you added vinegar to baking soda for an explosive, fizzy reaction-except the acid in bath bombs is lot more body-friendly, and there's no mess to clean up at the end of the day.
Click Here to read our full article on Planet Green.