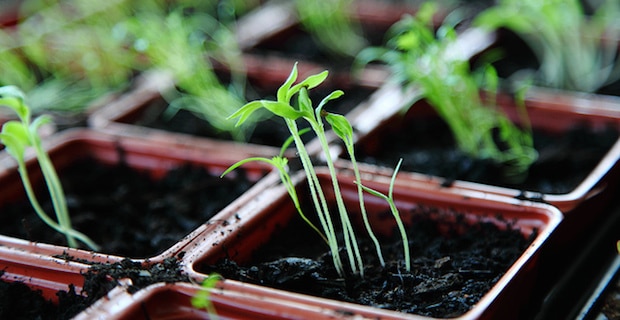 Raw peas warmed by the sunshine, tiny carrots so sweet you can barely resist letting them mature; it always feels like the wait for fresh, homegrown foods is endless in the dead of winter. But as you're pining for crisp climbing beans and fresh lettuce, you might want to put that craving to good use by planning your vegetables garden sooner rather than later.
Growing your own organic foods has become increasingly popular as people worry about food miles, food safety, pesticide contamination, and genetically modified foods. Though it may seem like it's not worth the effort, a garden provides plenty of benefits. Not only will your food be nutritious and as close to chemical-free as possible, you'll also get great exercise from planting, weeding, and harvesting.
The benefits to the environment are also substantial. The carbon footprint associated with your food will drop dramatically, you'll help improve the biodiversity in your local environment, and the food crops can help prevent soil erosion. Using organic pest management and organic topsoil will further help you reduce the environmental impact.
Read more about organic gardening
Planning is important for all gardens, but it's essential for vegetable gardens. "Without some advance figuring, it is entirely possible to end up with 20 heads of cauliflower ready to harvest in the same week, followed by 20 heads of broccoli the next week, dump-truck loads of zucchini for a month, and bitter, inedible lettuces from July onward," Miranda Smith writes in her book Complete Home Gardening: Growing Secrets and Techniques for Gardeners
Start by choosing which vegetables you want to grow. The first step is to make a list of all the foods you love. Then head to your local library and pour over gardening books to see if there are other foods you didn't think of that grow particularly well in your climate. Don't forget to also talk to friends, family, co-workers, and even staff at your local garden center; anyone can be a fantastic source for learning about different types of tomatoes, for example.
When it comes down to planning planting dates, timing is everything. Plant too early and frost could destroy warmth-loving plants like tomatoes; plant too late and plants like lettuce will produce more flowers than leaves, and the meager leaves you do get will be bitter – not what you're going for. Stick to the appropriate planting times for each vegetable, and stagger your sowing over the appropriate weeks. You'll get a reasonable, steady yield and you won't end up with those 20 heads of cauliflower.
Many gardeners in northern states like to get a jump start on the growing season of cool weather plants by growing seedlings indoors in the late winter or early spring. This can extend the growing season of some plants by up to six weeks, and it is particularly helpful in areas where winters are long and cold. You can also start most herbs indoors at any time over the winter, transplanting them outside once it's warm enough.
As you decide where you want plants to be placed, keep in mind that not all veggies play well together. According to Smith's book, tomatoes, for example, don't grow well near broccoli or cabbage; but tomatoes and asparagus easily grow side-by-side. Knowing which plants should be kept apart will save you a lot of effort and will help ensure your yields are what you were shooting for.
Read more about fruits and veggies to plant with kids
Though the cold winter hardly seems like the right time to start thinking about what you'll garden come spring, if you start now, you won't make those common mistakes that seem to come with last-minute planning. Instead, all you'll have to worry about is weeding and protecting your plants from those pests naturally.
Image: D Sharon Pruitt