The Savviest New Products from Expo West 2017
Andrea and I spent five amazing days in California at Expo West exploring all the hottest wellness trends. This year's show featured over 80,000 attendees with 3,100 exhibitors. The energy was contagious, and we want to share what we were up to and some of the great new products debuting for you and your family. As you know, we love doing Facebook Live videos and we were lucky to be able join Charles Chen in creating delicious Rainbow Spring Rolls with Collagen Basil Cream on location. Check out the spring rolls in the video below. Let us know if you try the recipe! We've rounded up some of our favorite new products from our sponsors:
1. Barlean's Platinum Line Life is busy and stressful and every day we are exposed to a myriad of toxins. This detox, repair, and optimize line was specially designed with quality ingredients to help combat the effects of these toxins in our environment and stress in our lives. They are delicious and beneficial to our gut, liver, and emotional health. We especially like the Emotional Detox formula featuring flower essences proven to help ease our emotions. Simply add them to water, a smoothie or yogurt and enjoy.
2. Made Good Crispy Squares (coming soon) If you're looking for a way to sneak more veggies into your kids' diet, Made Good has the answer. These healthy alternatives to traditional rice crispy squares are organic, school safe, and free of eight common allergens.
3. Uncle Matt's Functional Juices and Lemonade Last year, Uncle Matt's introduced probiotic waters which we love since they don't have any added sugar. Now they have even more flavors, as well as their functional juice and lemonade products coming this summer. These refreshing drinks have the added benefits of superfoods like turmeric and ashwagandha, making them a delicious hydrating choice for your family.
4. Bigelow Benefits Tea Many afternoons here at Naturally Savvy Andrea and I enjoy a cup of tea while we "brew" up great content for you. My new favorite tea is Radiate Beauty from the Bigelow Benefits line. It uses ingredients specifically chosen to enhance your skin, including blackberries and aloe vera. Blackberries are loaded with antioxidants and help fight free radicals that age us and aloe helps us absorb more of the good things in the tea and aids digestion. With a smooth mouth feel, a nice cup of this tea really does help you feel more radiant.
5. Natural Vitality (coming soon) There are new additions to the Natural Calm line and we couldn't be more excited. From gummies to a kid-friendly formula, you can choose the best-selling magnesium supplement that fits your lifestyle. The kids' formula will be available in April with the gummies to follow in early summer.
6. Lily of the Desert Lily of the Desert, makers of the original super juice, are launching a whole new personal care line. With over 25 products for women, men, and kids, they include everything from shaving gel to styling spray. They all feature organic aloe and have pure botanical ingredients. The kids' packaging is super cute with adorable characters like whales and penguins. Natural care should be fun for the whole family.
7. Goddess Garden Most people forget to protect their lips while they are out in the sun and Goddess Garden has a great solution just in time for summer. While people often like sun protection from zinc, the white lip look isn't a hot trend this year. Goddess Garden's lip balm has the protection you need but goes on sheer, and the scents are scrumptious. As with all Goddess Garden products, they are natural and align with their campaign to preserve and protect the reefs.
8. Natracare Natracare recently received Made Safe certification, which reinforces how trustworthy this brand is and gives us even more reason to recommend their products to all of our followers, friends, and family. By testing for known carcinogens and toxins, this helps consumers identify the brands that will be healthiest for them.
We love bringing all these new products to our own homes and to our readers. Let us know if you've tried any of our favorite new products and what you love about it.
---
About the Author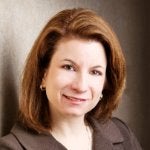 Lisa Collins is the Marketing Manager at NaturallySavvy.com and a Registered Holistic Nutritionist with a passion for food and a healthy lifestyle. She loves creating new and healthy recipes to nourish her two active boys and is an avid reader. You can find her on twitter @lisacollinsrhn.