The Top New Products from our Partners at Natural Products Expo East
I recently had the opportunity to attend Natural Products Expo East. I was excited to go so I could learn about the trends for natural products. I saw so many products with protein, probiotics, pulses, and ones that were super portable. There were so many new companies at Expo East this year which is great. It shows us how consumers are pushing for more natural, healthy, and organic choices. Kudos! While there, I visited with many of our partners and I'm excited to share some of their new products with you:
First stop: North American Herb and Spice. At the last Expo, NAH&S introduced their new Hempanol Line. This product line has been a huge success and now they introduced Hempanol-CF. Hempanol-CF is unique in that it contains the rare and powerful terpenes from cannabis that can help you remain calm and focused. We could all use a little more calm in our lives, wouldn't you agree!?
Next, we visited with, NeoCell Health and learned more about their nutricosmetics. We ate lots of Beauty and Joint Bursts and enjoyed some of Chef Charles Chen's creations using NeoCell Collagen as an ingredient. The Joint Bursts combine Collagen Type 2 (great for cartilage), Turmeric, and Hyaluronic Acid in a soft chew with a tropical fruit flavor for targeted joint support. These three powerhouse ingredients work synergistically to support flexibility, mobility, and comfort. Chew on this and take a comfortable step in the right direction.
Next we visited with Natural Vitality. We have been Natural Calm fans for a long time and have written a lot about magnesium deficiency (which you can read about here and here). When we saw that Natural Vitality had a new sleep product we were super excited. Natural Calm helps us sleep better by promoting relaxation, but the Calmful Sleep formula has extra ingredients including Suntheanine®, GABA, and melatonin — for when you need that extra sleep support. Barlean's was next on our list. They have several new products that we are super excited about. Their buttery flavored coconut oil is flavored with plant essences and tastes like the real deal on popcorn; it was like being at the movies without the trans fats! They have also created new super blend toppers that you can add to yogurt and/or cereal and salads. The possibilities are endless, and they come in four varieties: Antioxidant, Energy, Digestive, and Superfruit Blends. You can check out what makes each blend unique here.
Our next visit was with Nordic Naturals. They recently launched Omega Memory and Omega Woman. Omega Memory is a unique blend of fish oil, curcumin, and other nutrients shown to support brain health. Combined, they offer potent support for cognitive clarity and memory function. Omega Woman contains 500 mg of omega 3's so it meets the intake experts recommend. It also contains evening primrose and GLA support to hormonal balance and radiant skin.
Our last visit was with Goddess Garden - who won a NEXTY award for their Under the Sun Pre-Sunscreen Serum. This is a new product from their Sun Repair line that contains nourishing vitamins that is used under sunscreen to help it go on smoothly.
---
About the Author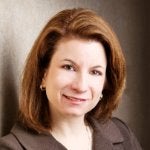 Lisa Collins is the Marketing Manager at NaturallySavvy.com and a Registered Holistic Nutritionist with a passion for food and a healthy lifestyle. She loves creating new and healthy recipes to nourish her two active boys and is an avid reader. You can find her on twitter @lisacollinsrhn.