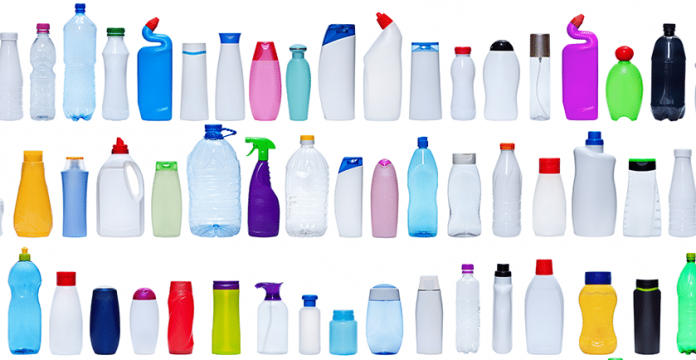 Lurking within common household products are a myriad of chemicals. Environmental Working Group has investigated over 2,000 household cleaning products on the American market and found many contain chemicals linked to serious health problems.
One company wants to put better products on its shelves. That company is Walmart, the world's largest company by revenue. Walmart recently announced it is strengthening its sustainable chemistry policy for consumable products, which includes household cleaners, cosmetics and skincare items, and infant products.
Read about harmful ingredients in skin care products
The company's goal is to reduce the consumables chemicals footprint for Walmart and Sam's Clubs stores in the U.S. by 10 percent by 2022. It is the first U.S. retailer to set goal like this with a deadline. The goal applies to chemicals defined by the Walmart Priority Chemicals List. Walmart launched its sustainable chemistry commitment in 2013, which covers about 90,000 products from 700 suppliers.
"Our strengthened commitment provides more clarity on our expectations for suppliers in working towards enhanced product formulations and setting concrete benchmarks to check progress along the way," said Zach Freeze, senior director of strategic initiatives for sustainability at Walmart, in a statement.
Walmart's suppliers have removed 96 percent of high priority chemicals by volume weight from the consumables products sold in Walmart's U.S. stores, a one percent increase from last year. In 2016, the retailer released a list of high-priority chemicals and outlined its progress to eliminate those chemicals from the products it sells in its stores. The company reports its progress in its Global Responsibility Report.
Read about detoxing your home with a natural cleaning regimen
Walmart is encouraging its suppliers to provide full ingredient disclosure of priority chemicals online and on product packages starting in 2018. The retailer is adding two new regulatory lists to its priority chemicals list, and will ask suppliers to verify the purity of ingredients where contaminants of concern may exist. The retailer also plans to increase the amount of sustainably assorted products sold in its stores by encouraging suppliers to use Cradle to Cradle and EWG Verified programs for third party certification.
Walmart participated in the Chemical Footprint Project survey in September, the first retailer to do so. The company publicly reports its progress annually through the Global Responsibility Report and Sustainability Hub. Fortune's Change the World Ranking listed Walmart as number seven of 50 companies that are making social benefit part of their core business.
Read about 25 ways to clean with vinegar
"Walmart has set an industry precedent for targeting and measuring reductions of chemicals of concern in its products," said Boma Brown-West, senior manager at the Environmental Defense Fund (EDF).
Other companies have decided to make transparency a priority when it comes to chemical ingredients. Procter & Gamble Company announced recently that it will disclose all fragrance ingredients in its products. The company will disclose fragrance ingredients down to 0.01 percent for its product portfolio of over 2,000 fragranced products in the U.S. and Canada by the end of 2019.
Read more about scents in cosmetics beauty products
Unilever announced an initiative in February to allow its customers to discover the ingredients in its products, including disclosing fragrance ingredients. The company will complete the disclosure of fragrance ingredients by 2018.