The Healthiest Cookware and Bakeware Options
Healthy Cookware and Bakeware:
Here's the great news: the list of safe cookware and bakeware is longer than the avoid list! If you find yourself in need of some healthy cooking and baking needs, it's time to add any of the following to your holiday wish list.
Stainless Steel

Stainless steel cookware often has an inner core of copper or aluminum, which are excellent conductors of heat. Because these undesirable minerals are sandwiched between stainless steel, you are essentially safe from toxins. To make sure the stainless steel cookware you own or want to buy has a reasonable layer of steel, check it with a magnet. If your magnet sticks, you have suitable utensils. If not, then the core metals are thinly disguised. When cleaning stainless steel, use caution. Vigorous scouring using steel wool pads or brushes may damage the cooking surface, allowing nickel (an alloy) to leak into food and possibly expose the core metals.

Read more: The Healthiest Lunch Boxes and Containers for Your Kids

Cast Iron

Remember the cast iron pans your grandmother had? They were, and still are, tops when it comes to healthy cooking. Although cast iron cookware can leach iron into your food (especially unglazed cast iron), the additional mineral boost can be a good thing, unless you are at risk of iron overload. If this is a possible health risk for you, consider using other non-toxic cookware options. The other upsides of cast iron cookware are their durability and even heating ability. Cast iron can be relatively non-stick if you season it; that is, treat the pans with oil (I use olive or coconut) and then bake them. This fills in the porous cooking surface making food less likely to stick. One downside of cast iron pots and pans is their weight. If you have difficulty lifting heavy cookware and/or if you have arthritis in your hands, you may want to stick with small cast iron pans and use stainless steel for larger needs.

Glass

Glassware, such as Pyrex and similar products, are non-toxic and durable. Although most glass products cannot be used on a stovetop, they are fantastic for baking. Acquiring glass cookware and bakeware need not be costly, as you can find them in vintage or thrift stores at reasonable prices.

Ceramic and Enamel

Ceramic cookware and bakeware have been used since ancient times, and they can provide even heating and easy clean up. However, that doesn't mean all of them are safe. Concerns about using ceramic and enamel products are associated with substances such as cadmium or lead used during the production, glazing, and decorating processes. Always check the manufacturer to be sure any ceramic or enamel cookware or bakeware is free of metals, lead, or cadmium, including ceramic-coated pans. Several reliable manufacturers provide healthy ceramic and/or enamel cookware and bakeware, including Xtreme and Mercola.
Stoneware

Safe stoneware cookware may be more challenging to find, but it can be well worth the effort. Of utmost importance is to choose stoneware from a reliable company. Stoneware made in the United States and Canada is lead-free; low-quality items from China and other countries may contain lead. On the plus side, high-quality stoneware can last a lifetime. The pieces heat evenly, and if you want to enjoy a non-stick finish, be sure to season it well the first 8 to 10 times you use it. Stoneware is easy to clean: water (no soap!) and a cloth or scraper will do the trick. You can use stoneware on your stovetop and in your oven, and many pieces are attractive enough to use for serving as well. High-quality stoneware also does not absorb odors from foods. Stoneware can be pricey and too heavy for some people to handle. They also can crack if not cared for properly.


Clay Pot Cookware

Using all-natural clay pot cookware is like taking a step back in time and across many borders, as it is an ancient and global way of cooking that has withstood the passage of time. Clay pot cooking is safe (toxin-free) and environmentally friendly; there is no lead or other contaminants, just pure clay. Look for unglazed clay cookware and bakeware. In addition to being nontoxic, other benefits of clay pots include an ability to retain nutrients (clay pots hold steam extremely well, thus keeping in water-soluble nutrients), they hold heat evenly, are energy savers (they retain heat very well and cook food at medium heat), and can be used on stovetops and in ovens. Clay pots also are naturally non-stick, durable, and look great on your table. Some clay cookware is designed for oven use only while others are dual purpose (oven and stovetop). You will want to familiarize yourself with some do's and don'ts about clay cookware, such as seasoning them, before you throw that casserole into the oven!
Questionable: Green Non-stick Cookware

Among the newest additions to the cookware arena are non-stick products that don't use PTFE/PFOA but rather a ceramic-based coating. One such patented technology (Thermolon; Green Pan) is heat resistant up to 850 degrees F and does not emit toxic fumes or peel at that high temperature, unlike the other non-stick cookware. Another is Orgreenic, also ceramic-coated, but these products need to be seasoned with oil every few months and are heat resistant up to 500 degrees F. Yet another is the Earth Pan II line from Farberware. These non-stick pans are coated with SandFlow, which is PTFE-free, but there seems to be some question about its non-stick properties based on consumer reviews.
Bottom Line

The healthiest cookware and bakeware seem to be stainless steel, cast iron, stoneware, clay and glass, with a smaller number of ceramic and enamel. If this review has caused you to take stock of your pots and pans and you realize you need to make some changes, don't panic! Replace the most offensive ones first, and then one at a time. Check vintage and thrift stores for healthy products that are still in good shape to help keep costs down.

[Editor's Note: If you want to eliminate unhealthy ingredients and chemical additives from your diet for good, click here to sign up for a Naturally Savvy Get Healthy Challenge.]
Image via Franklin Heljnen


---
About the Author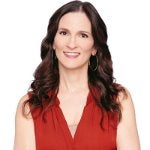 Founder & Chief Passionista at NaturallySavvy.com. See my full bio here.