Benefits of Using a Doula
Increasing numbers of pregnant women are now hiring doulas to assist them through the birthing process. Doulas are trained professionals (usually women) who provide non-medical support to a woman or couple before, during, and after labor. A doula understands that a birth is a very important and memorable experience and her role is to make the birthing process as positive as possible through proper education and emotional support. Statistics show that the use of doulas helps couples stick to their birthing goals more often, reduces the use of medical interventions, shortens labor times, and improves maternal satisfaction rates.
Before Labor
A doula helps to prepare a woman or couple for labor by educating them on what to expect. Many first time parents are nervous about the birthing process because they do not know what to expect and surprises are likely to upset them. This nervousness can manifest as physical stress and can increase the intensity of contractions. When a couple is properly prepared for labor by being educated on what they can expect, their anxiety reduces and they are better able to enjoy the process.
Preparation of a Birth Plan
A doula will help the couple identify their goals around labor or create a birth plan. She will help guide them to make relevant decisions about the use of pain medication, positioning, the role of the partner, etc.
During Labor
During the birthing process, the role of the doula is to help support the pregnant woman so that she is as comfortable as she can be. A doula will achieve this through the use of relaxations techniques, suggestions for laboring positions, and emotional support. She may even offer gentle massage at different stages of labor. The doula will try to include a woman's partner so that they can play a key role in the labor. In cases where a woman's partner may not be able to or may not want to actively participate, the doula becomes the primary support.
Provide Information
A doula will also provide accurate information about birthing interventions suggested by medical staff. This knowledge will allow a woman or couple to make informed rather than spontaneous decisions regarding the labor.
Provide Emotional Support
A primary role for the doula is to provide emotional support and encouragement throughout the labor. Many women assume their partners will be able to offer this type of care; without proper training or in the face of their own fears, many are not able to provide the calm support that a doula can. Because labor is a very vulnerable time in a woman's life, the comfort of having a doula present throughout can reduce anxiety. It is widely known that easing stress and anxiety during labor helps to decrease the intensity of pain, leading to a smoother birthing process.
Postpartum
Once the baby has been delivered, a doula can assist the new mother with breastfeeding techniques, helping to ensure the baby is latching properly. Many women experience issues around breastfeeding either due to infections or inappropriate latching. A doula can help to minimize these types of issues. If specially trained, a doula may also provide nutritional recommendations for the mother so that she can properly nourish herself during the course of breastfeeding.
The doula can help with newborn care showing parents how to bathe and soothe a crying baby. In some cases, a doula may provide guidance on meal preparation to help reduce the stress on the new family immediately following birth. Others may help with childcare responsibilities as the new family settles in.
In short, the role of the doula is really to "mother" the mother. Due to the physical and emotional intensity of birth, many women welcome the extra support of a trained and caring individual. The added emotional reassurance and physical comfort provided by doulas assist women in having a more positive birthing experience that they can remember fondly.
---
About the Author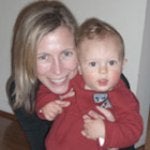 Lilian is a registered holistic nutritionist who has worked in the nutrition and corporate wellness fields for the over a decade. She teaches pediatric nutrition, delivers corporate and public nutrition seminars, runs a weight-loss program, does one-on-one nutritional counseling and writes on nutrition and wellness topics. Since having her son Noa, Lilian has taken a keen interest in educating mom's to be and new parents about proper nutrition during these special periods. Lilian has been featured in Elle Magazine, Flare, Today's Bride and The Weekly Scoop, MSN/Sympatico's Weight Loss Challenge and appeared on City TV.