Breastfeeding Dos
While breastfeeding certainly provides a special connection between mother and child, it also offers many health benefits for both.
Breast milk is one of the most alkaline foods on the planet, making it perfect nourishment for a growing infant. It helps to protect the child against illnesses such as ear infections, the flu, and additionally lowers the risk for asthma, diabetes, obesity, and leukemia later in life. Mom also benefits from breastfeeding as regular feedings encourage the uterus to contract back to its normal size. Consistent milk production also enables her to drop that baby weight almost effortlessly because it uses up so many calories. Despite these not-so-secret benefits, many women give up breastfeeding after the first few weeks postpartum due to discomfort.
Here are a few tips to keep the process as painless as possible, so that you and your new baby can reap the rewards and enjoy your special time together.
Growing Pains
Although awkward at first, once you're over the initial hump, the experience of breastfeeding becomes comfortable and pleasurable. The World Health Organization recommends breastfeeding your baby for the first two years. The main causes of painful breasts are engorgement and improper latching, and luckily for both you and your baby, they're easily remedied with the right knowledge.
Engorgement is a sensation of fullness in the breasts from an over-production of milk. Within seventy-two hours after you give birth, a rush of breast milk becomes available to your baby. More blood flows to your breasts and some of the surrounding tissue swells, including the underarm region, resulting in tender, engorged breasts. Although it's painful, engorgement is a good sign, since it means you're producing abundantly.
You will continue to produce milk in abundance until your body gets a better sense of how much milk your baby needs. In the meantime, you can:
Use Cabbage leaves. This is an old home remedy. Peel back a layer or two of green cabbage and place them inside your nursing bra, covering each breast completely. You can leave them in for a minimum of twenty minutes, or until the cabbage completely wilts. The coolness and the sulfur in the amino acid methionine act as an antibiotic and anti-irritant, drawing an extra flow of blood to the area. The dilation of the capillaries that result acts as a counter-irritant, thus relieving the engorgement and inflammation, allowing milk to flow freely, and giving you great relief.

Take a warm shower or bath and allow the water to gently pour directly over your breasts. The heat will cause vaso-dilation: your milk will begin to leak in the shower, causing the breasts to deflate enough so you feel comfortable. Since the breasts aren't being stimulated, your body won't consider the leaking a feeding and you won't have to worry about producing more milk to account for the leaked milk.

Wear comfortable clothing that doesn't cling too tightly around the chest area or cause any rubbing.

Use a cold compress up to twenty minutes before a feeding.

Nurse frequently, every two to three hours at least, even if it means waking your baby. This is crucial, because unrelieved engorgement can cause a permanent drop in your milk production. Try to get the first breast you use as soft and deflated as possible. If your baby is satisfied with just one breast, you can offer the other breast at the next feeding.

Massage the breast while nursing, to get blood flowing. This will help decrease some of the inflammation.

Contact a lactation consultant who can show you some tips. Check with your birth service-provider to see if they have any partnerships with lactation consultants.

Use Fenugreek seeds. Fenugreek seed compress is a traditional remedy used in India to relieve engorgement and mastitis. Steep several ounces of fenugreek seeds in a cup or so of water. Let seeds cool and then mash them. Place on a clean wet cloth, while warm, and use as a poultice or plaster on engorged or mastitic breasts to help with let-down and sore spots.
Breastfeeding is a natural thing; make it as comfortable as possible.
---
About the Author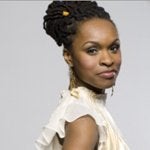 Latham Thomas is a graduate of Columbia University and the Institute for Integrative Nutrition. She has earned a degree in Visual Arts and Environmental Science. Latham is a certified holistic health counselor, who mixes her passions of plant physiology, botany, holistic nutrition, fitness, yoga, and organic green cuisine into a lifestyle program that supports the various needs of her clients.

She is the founder of Tender Shoots Wellness, a boutique lifestyle company that supports women during childbearing years. Latham is also the co-founder of Panela Productions, a company that educates parents and children about food, through cooking classes and events.

Latham currently teaches plant-based culinary classes at Whole Foods Market and Natural Kitchen Cooking School. She also gives lectures on plant based nutrition and teaches prenatal and vinyasa yoga.