Does My Baby Need Supplements?
Many parents wonder if they should add supplements to their baby's diet. They question if supplements are really necessary for their little ones, or are they are just a popular trend?

The answer is complicated because not every child is born with equal health and the environments where children are raised differ substantially. We all have our own unique needs and that includes children as well. Consequently, the answer depends on the child.

First, consider the condition of your baby's health when deciding if supplementation is appropriate. Is your child in great health? Does he / she have a strong immune system? Do they have adequate energy? Do they look healthy (i.e. skin, hair, eyes, nails, weight)? If the answer to any of these questions is no, then proper supplementation may be appropriate in the short term to support their health.

Also consider the nature of their diet. Is your child eating good quality food? Are they eating ample amounts of food? If they are eating a well balanced diet and are otherwise healthy? If you answered yes, then perhaps supplementation is not necessary. If, on the other hand, they are not eating well and may not be getting adequate nutrients from food, supplementation could be helpful. However supplements should never be used as a replacement for good eating habits; healthy eating should always be encouraged first.

A third matter to keep in mind is the child's environment. Here the word environment refers to such things as: weather and sun exposure, city or country living, and indoor air quality. Depending upon where a child lives in the world, what time of year it is, if they are exposed to high levels of pollution, and what condition of their home is in will determine if supplementation may be necessary. A classic example of differing needs is when children live in colder climates where winters are longer and exposure to adequate amounts of sun during many months is low.

Here are some examples where supplementation may be beneficial:

For Boosting the Immune System
Fish oil is important for the healthy functioning of the immune system. A purified brand of fish oil is essential.

Probiotics have also been shown to help boost immune function and ward off respiratory infection.¹
For Colder Climates
Vitamin D is important in preventing rickets – a condition where bones are soft and break easily due to an inability to absorb calcium and phosphate. Rickets are usually caused by a deficiency of vitamin D. The American Academy of Pediatrics recommends that parents give their babies a supplement of about 200 IU of vitamin D per day if the baby is breastfed exclusively or drinks less than 17 ounces (about a pint) of fortified formula daily. Only small amounts of vitamin D are transferred to baby through breast milk. Because vitamin D is created through skin exposure to sunlight, babies that live in warmer climates usually don't have a need for supplementation unless their sun exposure is extremely restricted.
For Digestive or Eliminatory Issues
Probiotics are good bacteria that help to support colon function and assist with digestive issues such as constipation or diarrhea. One important study showed probiotics to be helpful in the reduction of colic.²

Essential fatty acids (EFAs) can be helpful for children that have issues with constipation because they work to lubricate the colon, allowing for improved elimination.

Magnesium is another mineral that can improve fecal transit time. Magnesium's effectiveness stems from its ability to help relax muscles and therefore improve peristalsis while, at the same time, attracting water to the colon which results in softer stools.
For Healthy Brain Function
Fish oil – primarily the DHA component – is important for nervous system health which includes the brain. If children are not getting appropriate amounts through breast milk, formula, or from food as they get older, supplementation may be advised to support proper functioning of this key system.

Supplements do have their time and place for both babies and toddlers. However it is recommended that parents work with their primary health care provider to determine if their baby or toddler has any special need for supplementation, including specific dosage amounts.


References

¹Kaarina Kukkonen, Erkki Savilahti, Tari Haahtela, Kaisu Juntunen-Backman, Riitta Korpela, Tuija Poussa, et al. (2008). Long-Term Safety and Impact on Infection Rates of Postnatal Probiotic and Prebiotic (Synbiotic) Treatment: Randomized, Double-Blind, Placebo-Controlled Trial. Pediatrics, 122, 8-12.

²Savino, F et al. (2007). Lactobacillus reuteri (American Type Culture Collection Strain 55730) Versus Simethicone in the Treatment of Infantile Colic: A Prospective Randomized Study. Pediatrics, 119, 124-130.
---
About the Author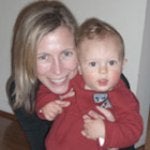 Lilian is a registered holistic nutritionist who has worked in the nutrition and corporate wellness fields for the over a decade. She teaches pediatric nutrition, delivers corporate and public nutrition seminars, runs a weight-loss program, does one-on-one nutritional counseling and writes on nutrition and wellness topics. Since having her son Noa, Lilian has taken a keen interest in educating mom's to be and new parents about proper nutrition during these special periods. Lilian has been featured in Elle Magazine, Flare, Today's Bride and The Weekly Scoop, MSN/Sympatico's Weight Loss Challenge and appeared on City TV.